Join us Saturday, October 10th at Landreth Park in Joplin, MO for the Arc Trick or Trot 5K & 10K! Proceeds from this event benefit The Arc of the Ozarks Joplin Division. The Arc of the Ozarks was formed and incorporated as a not-for-profit organization in 1964 serving individuals with disabilities for 50 years.
The Arc's mission is to support individuals with disabilities in directing their own lives as valued members of the community. The Arc believes every person should have the opportunity to achieve the highest level of independence. provides a wide array of services ranging from residential, employment, community integration, education, day programming and recreation services. The Arc of the Ozarks serves 700 individuals in 16 Southwest Missouri counties.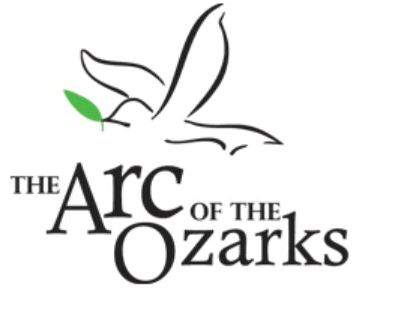 Registration Cost:
Early Bird Registration (through August 31, 2015)
5K - $20
10K - $30
1 Mile Fun Run - $10
Registration from September 1 – October 10, 2015
5K - $25
10K - $35
1 Mile Fun Run - $15
Awards
Overall Male & Female; Top Male & Female in each Age Division for the 5K & 10K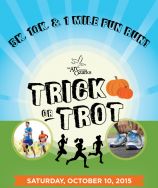 Shirts
Register by September 25th to be guaranteed a shirt in your size. After the 25th, limited shirts will be available while supplies last.
Packet Pickup & Race Day Registration
Packet pick-up is Friday, October 9th from 3pm – 7pm at The Arc of the Ozarks office located at 1515 W. 10thStreet or pick up your packet on race morning between 6:30am-7;30am
Event Organizer(s):

Results
Got Feedback? Take a moment to complete our Survey and let us know!Take the Survey
| | | | | | | | | | |
| --- | --- | --- | --- | --- | --- | --- | --- | --- | --- |
| Position | Bib # | | Name | Finish | Pace | Age | Gender | City | Division |
| | | | | | | | | | |
| 1 | 114 | SARA | IBBETSON | 19:55.00 | 6:25 | 34 | F | OZARK | 5K |
| 2 | 103 | BRAD | BEECHER | 24:31.69 | 7:55 | 49 | M | CARL JUNCTION | 5K |
| 3 | 102 | KENNETH | BALLS | 27:26.11 | 8:51 | 50 | M | NEOSHO | 5K |
| 4 | 109 | SARAH | GREMMINGER | 29:23.76 | 9:29 | 30 | F | SPRINGFIELD | 5K |
| 5 | 118 | PAUL | TUOMALA | 29:28.72 | 9:30 | 29 | M | GOODMAN | 5K |
| 6 | 121 | ANNE | WOLF | 31:00.19 | 10:00 | 54 | F | SPRINGFIELD | 5K |
| 7 | 120 | CHIP | WOLF | 31:00.65 | 10:00 | 54 | M | SPRINGFIELD | 5K |
| 8 | 105 | ERICA | ELLIOTT | 31:12.45 | 10:04 | 32 | F | GOODMAN | 5K |
| 9 | 129 | MICHELLE | BALLS | 31:16.90 | 10:05 | 50 | F | MONETT | 5K |
| 10 | 110 | BRANDAN | GREMMINGER | 31:33.71 | 10:11 | 30 | M | SPRINGFIELD | 5K |
| 11 | 104 | DARREL | DINGER | 32:42.18 | 10:33 | 30 | M | JOPLIN | 5K |
| 12 | 106 | SARAH | EMERSON | 33:18.04 | 10:45 | 34 | F | JOPLIN | 5K |
| 13 | 115 | KIRK | MOORE | 37:10.24 | 11:59 | 25 | M | JOPLIN | 5K |
| 14 | 130 | LARRY | MASTERS | 37:56.99 | 12:14 | 53 | M | | 5K |
| 15 | 116 | KATIE | SPICER | 42:15.07 | 13:38 | 24 | F | OZARK | 5K |
| 16 | 100 | JACQUIE | ATKINS | 43:09.52 | 13:55 | 47 | F | OZARK | 5K |
| 17 | 117 | LILLI | STRAUGHN | 43:36.67 | 14:04 | 13 | F | GOODMAN | 5K |
| 18 | 119 | DAPHNE | TUOMALA | 43:36.71 | 14:04 | 27 | F | GOODMAN | 5K |
| 19 | 108 | ANDREW | FEDJE | 54:39.42 | 17:38 | 17 | M | OZARK | 5K |
| 20 | 107 | LAURIE | FEDJE | 54:39.61 | 17:38 | 48 | F | OZARK | 5K |
| 21 | 123 | MARK | YOUNG | 56:46.32 | 18:19 | 49 | M | SPRINGFIELD | 5K |
| 22 | 122 | MISSY | YOUNG | 56:46.84 | 18:19 | 47 | F | SPRINGFIELD | 5K |
| 1 | 307 | DANIELLE | WISE | 50:10.86 | 8:05 | 27 | F | SPRINGFIELD | 10K |
| 2 | 305 | BENNY | HOWARD | 50:11.53 | 8:06 | 40 | M | SPRINGFIELD | 10K |
| 3 | 302 | LAURA | STILES | 57:16.28 | 9:14 | 30 | F | WEBB CITY | 10K |
| 4 | 301 | SAMUEL | CRAWFORD | 1:00:28.66 | 9:45 | 27 | M | MONETT | 10K |
| 5 | 303 | JACKIE | STONE | 1:01:13.10 | 9:52 | 37 | F | WILLARD | 10K |
| 6 | 308 | LINETTE | JOHNSON | 1:02:12.01 | 10:02 | 49 | F | | 10K |
| 7 | 306 | DEBBIE | YEINGTON | 1:05:05.32 | 10:30 | 58 | F | | 10K |
| 8 | 300 | ANDREA | BLAIR | 1:11:51.82 | 11:35 | 42 | F | ANDERSON | 10K |
(Event 144,89)