The Blues Society of the Ozarks (BSO) is a not-for-profit organization that supports and encourages performance of blues music at multiple venues, festivals and on the radio. The organization promotes Blues in the Schools (BITS) and hosts the Greater Ozarks Blues Festival in the fall.
The proceeds from the BSO Blue Rooster 5K and 1 mile walk/run will benefit local artists and BSO sponsored events. In 2015/16, the BSO sponsored and provided resources for two local artists, Bobby G and Cory Swift, and the local band Tripwire, enabling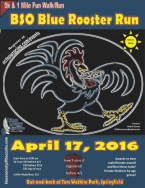 them to compete in the International Blues Competition in Memphis, TN. The society also raised money for a local artist's family to help relieve the burden of medical expenses.
The 5k will start at 9:00 a.m. with the one mile run run/walk starting shortly thereafter. All participants registering before April 1st will be guaranteed a BSO T-shirt!
The event will be preceding our first BSO Picnic of the year that will take place in Tom Watkins Park, Springfield, MO. Come join us for great live music!
For more information on the Blues Society of the Ozarks, go to bluessocietyoftheozarks.com
Event Organizer(s):

Results
Got Feedback? Take a moment to complete our Survey and let us know!Take the Survey
Springfield, MO - Sunday, April 17th, 2016 was the Blue's Society of the Ozark Blue Rooster 5K & 1 Mile Fun Run. After the run participants got to enjoy blues music & a picnic! Thank you to all the sponsors, volunteers & participants for helping to support such a great cause. ROOSTER RUN 5K AGE GROUP RESULTS
| | | | | | | | | | |
| --- | --- | --- | --- | --- | --- | --- | --- | --- | --- |
| Position | Bib # | Last Name | First Name | Finish | Pace | Age | Gender | City | Division |
| | | | | | | | | | |
| 1 | 735 | MELTON | NATHAN | 22:00.57 | 7:06 | 35 | M | SPRINGFIELD | 5K |
| 2 | 729 | GOOD | MIKE | 23:12.89 | 7:29 | 68 | M | SPRINGFIELD | 5K |
| 3 | 743 | WILLIAMS | JEFF | 23:32.53 | 7:35 | 49 | M | NIXA | 5K |
| 4 | 746 | MAHAN | CHRISTY | 23:33.30 | 7:36 | 27 | F | | 5K |
| 5 | 799 | EVERETT | JOHN | 23:41.30 | 7:38 | 55 | M | STRAFFORD | 5K |
| 6 | 748 | WELLS | DAN | 23:45.69 | 7:40 | 52 | M | | 5K |
| 7 | 730 | GRIFFIN | JACQUELYN | 23:49.94 | 7:41 | 30 | F | OZARK | 5K |
| 8 | 750 | YEAGER | PATRICK | 25:12.01 | 8:08 | 36 | M | | 5K |
| 9 | 741 | SPIEKER | TROY | 25:13.59 | 8:08 | 37 | M | AURORA | 5K |
| 10 | 721 | BROWN | MARK | 25:24.55 | 8:12 | 41 | M | SPRINGFIELD | 5K |
| 11 | 752 | HUNT | SCOTT | 25:30.06 | 8:14 | 42 | M | MT. VERNON | 5K |
| 12 | 722 | CHEFFINS | THOMAS | 27:54.02 | 9:00 | 61 | M | OZARK | 5K |
| 13 | 732 | HEATH | BILL | 28:05.28 | 9:04 | 59 | M | ROGERSVILLE | 5K |
| 14 | 731 | HAMLET | BRIAN | 28:28.82 | 9:11 | 42 | M | SPRINGFIELD | 5K |
| 15 | 726 | DAVENPORT | STEPHANIE | 28:51.45 | 9:18 | 33 | F | SPRINGFIELD | 5K |
| 16 | 742 | TERRELL | JESSICA | 29:43.75 | 9:35 | 29 | F | ROGERSVILLE | 5K |
| 17 | 736 | PENNINGTON | ROD | 30:43.38 | 9:55 | 61 | M | SPRINGFIELD | 5K |
| 18 | 734 | KUSE | JAN | 30:59.49 | 9:59 | 59 | F | OZARK | 5K |
| 19 | 739 | REDDING | JACK | 31:54.10 | 10:17 | 66 | M | SPRINGFIELD | 5K |
| 20 | 724 | CUMLEY | BECKY | 32:03.70 | 10:20 | 49 | F | SPRINGFIELD | 5K |
| 21 | 727 | FLOWERS | DEBBIE | 32:40.64 | 10:32 | 35 | F | SPRINGFIELD | 5K |
| 22 | 737 | RAWLS | JENNIFER | 33:35.56 | 10:50 | 34 | F | SPRINGFIELD | 5K |
| 23 | 725 | CUMMINS | KAREN | 33:41.47 | 10:52 | 54 | F | NIXA | 5K |
| 24 | 723 | CUBEL | LORI | 34:42.71 | 11:12 | 44 | F | AURORA | 5K |
| 25 | 749 | WELLS | GAYLA | 35:16.69 | 11:23 | 44 | F | | 5K |
| 26 | 738 | REDDING | CINDY | 35:21.59 | 11:24 | 63 | F | SPRINGFIELD | 5K |
| 27 | 728 | FOWKES | BECKY | 36:06.59 | 11:39 | 44 | F | CLEVER | 5K |
| 28 | 744 | WOHNOUTKA | ALLISON | 39:25.42 | 12:43 | 20 | F | BOLIVAR | 5K |
| 29 | 745 | WOHNOUTKA | KATIE | 39:25.71 | 12:43 | 49 | F | BOLIVAR | 5K |
| 30 | 733 | HEATH | CINDY | 47:03.45 | 15:11 | 54 | F | ROGERSVILLE | 5K |
| 31 | 747 | PENNINGTON | ROBIN | 55:42.72 | 17:58 | 57 | F | | 5K |
| 1 | 777 | MELTON | MEMPHIS | 9:56.32 | 9:56 | 8 | M | | 1M |
| 2 | 753 | ROSSMAN | VICKI | 32:56.99 | 32:56 | 62 | F | SPRINGFIELD | 1M |
(Event 196,141)