DATE CHANGE DUE TO WEATHER - NEW DATE SATURDAY, SEPTEMBER 22ND
Together Forever: A Skyler Sanders Family Foundation is a non-profit organization 501(c) (3) that was created in memory and honor of Skyler Sanders. The goal of Together Forever is to create opportunities for young families that are given the life shattering news that their child or themselves as a young parent has cancer to make memories that last a lifetime. Together Forever's purpose is to select qualified young families and provide them with an all-expense-paid vacation to the Branson Tri-Lakes area to give them a break from their normal lives of treatments, hospital and doctor visits. For information about Together Forever: A Skyler Sanders Family Foundation, visit www.togetherforeverskyler.org.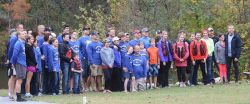 Event Organizer(s):


Event Details
The Fourth Annual Landing to Landing Canoe and Kayak race to benefit the local non-profit, Together Forever, will take place on Saturday, September 22nd from Cooper Creek to the Branson Landing on the beautiful Lake Taneycomo. We will have 2 divisions: competitive (8 mile float) and recreational (a 3 mile float).
Recreational: 3 mile scenic float starting at Cooper Creek Access to Main Street Marina at the Branson Landing. Registration will begin at 8:00 a.m. at Cooper Creek with the event race beginning at 10:00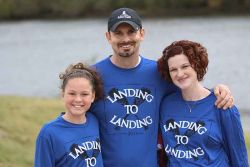 a.m. There will be 4 classes within the recreational division with a Male and Female awarded 1st in each category: 1. Adult Over 40, 2. Adult Under 40, 3. Kids Under 18, 4. Tandem. We will also award the overall male and female for the entire race.
Competitive: 8 mile scenic float starting at Belladonna Trail just off Hatchery Rd. Registration will begin at 8:00 a.m. with the event race beginning at 9:30 a.m. In this division 1st place will be awarded to the male and female.
Paddle Up Club: This is for our business sponsors. $500 for a corporate sponsorship. The fee will be $550 if you register the day of the race. Each business will have a team of 4 to qualify to win. Times will be averaged. Each individual will also qualify to place under the individual side as well.
Fee to Race: There is an early bird registration that will run through August 8th. The early bird cost for each to participate is $55 for a (2 person) Tandem Canoe or Kayak and $35 for a Single Kayak. After August 8th the cost will increase to $60 for a (2 person) Tandem Canoe or Kayak and $40 for a Single Kayak. We will also have a Family Rate of $100. This will include families over 3 (mom, dad, children), but limited to a family of 5.
Race day registration will be $50 for a single kayak; $70 for (2 person) tandem canoe or kayak; $125 for a family.
Included will be a delicious lunch and long-sleeved shirt.
Those participating will be responsible for their own transportation and pfd (life jacket). Entry fee does not include kayak or canoe rental.
Participants that register after August 24th will not be guaranteed a shirt or meal.
If you are in need of a Kayak or Canoe, we recommend contacting White River Kayaking at 187 First St, Hollister, MO or by phone at (417) 335-2210, to learn more go to www.whiteriverkayaking.com.
For Sponsorship information or for any questions about the event please email:
(Event 363,312)