Together Forever: A Skyler Sanders Family Foundation is a non-profit organization 501(c) (3) that was created in memory and honor of Skyler Sanders. The goal of Together Forever is to create opportunities for young families that are given the life shattering news that their child or themselves as a young parent has cancer to make memories that last a lifetime. Together Forever's purpose is to select qualified young families and provide them with an all-expense-paid vacation to the Branson Tri-Lakes area to give them a break from their normal lives of treatments, hospital and doctor visits. For information about Together Forever: A Skyler Sanders Family Foundation, visit www.togetherforeverskyler.org.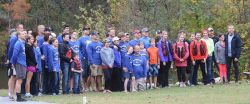 Event Organizer(s):
Register
To participate in this event please complete the required fields below. You can register more than one attendee/participants by clicking the "+Add Ticket button. This information will be shared with the Event Director (Note: billing and payment information are not shared). CREDIT CARD PROCESSING FEES are included in the event price.
I understand Canoeing and Kayaking is a potentially hazardous activity. I should not enter and participate unless I am physically fit, mentally able and properly trained. I agree to abide by any decision of the race officials relative to my ability to safely complete the event. I certify I am in good health and properly trained to participate in this event. I certify I know how to swim. I assume all risks associated with this event, all risks being known and being appreciated by me. I understand my entry fee is non-refundable. Having read this waiver and knowing these facts, and considering your accepting my entry into this event, I, for myself and my estate, heirs, survivors, descendants and anyone on whose behalf I may act (including all minor children and charges and their estates heirs and survivors), do hereby permanently and forever completely give up, surrender, waive, release and terminate any and all claims or liabilities of any kind, arising in tort, contract or otherwise, against A Skyler Sanders Family Foundation, Together Forever, ActNow Promotions/Racing, and their respective officials, directors, trustees, agents, volunteers, employees, sponsors and affiliates arising from my participation in this event, including but not limited to claims arising out of past or future negligence or carelessness on their part. I hereby consent to the use of image in photographs, videos and other recordings for promotional purposes.
(Event 363,312)