Join us Saturday, September 8, 2018 for the Getting Dirty to Stay Clean 5K & 10K at Rutledge Wilson Farms.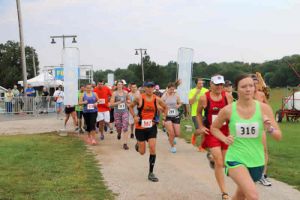 This race and all proceeds benefit Better Life in Recovery.
Our mission is to deal hope and Foster dignity for those who struggle with substance use and mental health issues through community service, awareness and education events that celebrate individuals and long-term recovery.
We share our stories of recovery to instill hope that people can and do recover and live productive lives.
We Foster dignity for those in long-term recovery by providing volunteer opportunities to better the community they live in.
We spread awareness of the dangers of substance use through live presentations, media interviews and public service announcements.
We celebrate recovery through sober, family-friendly social events.
We educate individuals, organizations and communities on the issues surrounding substance use and mental health issues and advocated for the growing numbers of individuals who are in long-term recovery.
We have started Springfield's first recovery Community Center where we provide Community, Resources and education for the recovery community.
Event Organizer(s):

Results
Got Feedback? Take a moment to complete our Survey and let us know!Take the Survey
| | | | | | | | | | | |
| --- | --- | --- | --- | --- | --- | --- | --- | --- | --- | --- |
| Position | Bib | First Name | Last Name | Split 1 | Finish | Pace | Age | Gender | City | Division |
| | | | | | | | | | | |
| 1 | 556 | HUNTER | WELLS | | 25:52.38 | 8:21 | 20 | M | SPRINGFIELD | 5K |
| 2 | 557 | ERIC | PENDERGRASS | | 25:56.43 | 8:22 | 22 | M | SPRINGFIELD | 5K |
| 3 | 560 | TYLER | ENGLISH | | 26:19.72 | 8:29 | 19 | M | SPRINGFIELD | 5K |
| 4 | 907 | STEFANIE | BURKETT | | 31:57.65 | 10:18 | 42 | F | NIXA | 5K |
| 5 | 553 | SHERI | ADAMS | | 33:38.17 | 10:51 | 34 | F | SPRINGFIELD | 5K |
| 6 | 561 | JOEL | ALEXANDER | | 34:16.39 | 11:03 | 57 | M | SPRINGFIELD | 5K |
| 7 | 554 | MCCAYLA | BREDE | | 34:30.54 | 11:08 | 30 | F | OZARK | 5K |
| 8 | 558 | ALLIE | MEINECKE | | 50:38.37 | 16:20 | 8 | F | SPRINGFIELD | 5K |
| 9 | 559 | ETHAN | MEINECKE | | 51:37.48 | 16:39 | 9 | M | SPRINGFIELD | 5K |
| 1 | 912 | SETH | THOENEN | 25:41.32 | 52:23.02 | 8:27 | 28 | M | SPRINGFIELD | 10K |
| 2 | 906 | ALYSSA | BRACAMONTE | 28:53.83 | 57:52.60 | 9:20 | 28 | F | SPRINGFIELD | 10K |
(Event 370,319)