Come celebrate with the band on March 13th, as we run through historic Marionville, home of the white squirrel, for the 16th annual Running of the Squirrels 5K. The course is flat and easy to navigate, perfect for all ages and abilities. We will have live music and refreshments. Feel free to dress up in your favorite Irish gear and join the fun! Cash awards will be given for Overall Male and Overall Female winners in addition to medals for the top three male and female finishers in each age category. All proceeds raised from our 5K will benefit the Marionville Comet Pride Marching Band. Thank you for your support!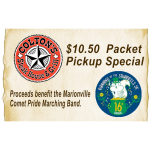 $10.50
each
Colton's Packet Pickup Special
Packet Pickup for the 16th Annual Running of the Squirrels 5K will be Thursday, March 11th at Colton's Steak House & Grill, 2020 East Independence, in Springfield from 5pm to 7pm.
DINNER SPECIAL - You get a choice of a hamburger or cheeseburger with fries for $10.50. Proceeds benefit the Marionville Comet Pride Marching Band.
Register
To participate in this event please complete the required fields below. You can register more than one attendee/participants by clicking the "+Add another registrant" button. This information will be shared with the Event Director (Note: billing and payment information are not shared).
(Event 591,530)