All proceeds are sent to St. Jude's Children's Research Hospital. The purpose of Shelby's Run is to promote healthy activity while raising awareness and support for patients and families who are given hope by the research, care and services offered by St. Jude's Children's Research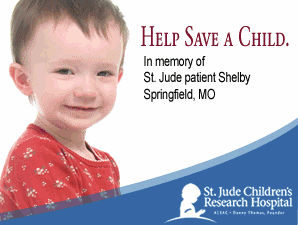 Hospital. The 1st Annual Shelby's Run was held in the fall of 2007, when a group of staff from the Clever R-V School District came together looking for a way to show support for the family of Kathy Grover, Assistant Superintendent of Clever Schools. Kathy's 3 year old granddaughter Shelby Grover had been diagnosed with a brain tumor and was being treated at St. Jude's Children's Research Hospital in Memphis, TN.
The first race attracting 348 participants and $10,124 was sent to St. Jude's Children's Research Hospital. The totals far exceeded the expectation of most but only shows the generosity and support of the Clever community and surrounding area.
Although Shelby lost her brave battle with cancer in October of 2007, just weeks after her third birthday and a month before the 1st Annual Shelby's Run, her spirit lives on in the annual event where hundreds of people gather for one common goal, to stand up against cancer and support research and hospital care for patients.
Shelby's Run #8 - Saturday, November 22, 2014
Event Start Time: 9AM
Registration Fees: 1 Mile - $15; 5K - $20; 10K - $25
Race Day Registration & Packet Pick Up will be held from 8AM to 8:45AM
All races begin and end at Clever EleMiddle School.
Event Organizer(s):

(Event 85,30)