Burr..it's Cold Outside!
03
Feb
2016
Details

Written by Jason Bauer, Director of Food & Nutrition for Cox Health & Avid Ultra Runner
Running long distances in cold weather can be a challenge but with the right clothing and a little planning it can be an enjoyable experience. There are two parts to cold weather running, the first is the weather and the second is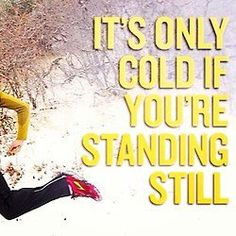 your clothing. Let us first delve into the weather side of this topic.
When planning a run the best thing you can do is to either watch the weather the night before your run or check your phone before you head out. Once you have been informed on what the temp is going to be you can start to plan accordingly. A good rule of thumb is to add 10-15 degrees to whatever temperature it is outside. For example if its 40 degrees you can assume that after you get warmed up it will feel like 50-55 degrees outside. If you walk outside and you feel warm and cozy once you stand there for a minute or two you my friend have to many cloths on and you will cook once you get warmed up. You should almost feel chilled when you step out your door. Another thing you need to pay attention to is the wind. A breeze is not so bad but gail force winds will make even a short run miserable. If it is windy outside try and run a hilly route or one with trees, or houses, depending on where you live; this will help block the wind. Something l like to do is to look out my front door, if the trees are swaying head for the hills. One other trick is to plan your route so the wind hits you in the back on your way home; it is a great way to produce a negative split.