Running long distances in cold weather can be a challenge but with the right clothing and a little planning it can be an enjoyable experience. There are two parts to cold weather running, the first is the weather and the second is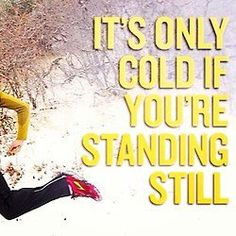 your clothing. Let us first delve into the weather side of this topic.
When planning a run the best thing you can do is to either watch the weather the night before your run or check your phone before you head out. Once you have been informed on what the temp is going to be you can start to plan accordingly. A good rule of thumb is to add 10-15 degrees to whatever temperature it is outside. For example if its 40 degrees you can assume that after you get warmed up it will feel like 50-55 degrees outside. If you walk outside and you feel warm and cozy once you stand there for a minute or two you my friend have to many cloths on and you will cook once you get warmed up. You should almost feel chilled when you step out your door. Another thing you need to pay attention to is the wind. A breeze is not so bad but gail force winds will make even a short run miserable. If it is windy outside try and run a hilly route or one with trees, or houses, depending on where you live; this will help block the wind. Something l like to do is to look out my front door, if the trees are swaying head for the hills. One other trick is to plan your route so the wind hits you in the back on your way home; it is a great way to produce a negative split.
Once you have determined what route you will take and the direction of the wind you now need to plan what cloths to wear. When it comes to cloths, there are two rules I live and die by, 1. Dress in layers and 2. Never wear cotton....cotton kills. When dressing in layers your base layer needs to be something that pulls moister away from your body. Sweat is there to cool you and since it's a liquid it pulls heat away from your body at an amazingly fast rate and really cool you off; great for the summer but not so good when its 10 degrees outside. Under Armour has a huge selection of apparel to choose from; I really like their cold weather gear, it fits comfortably, wicks sweat away and insulates. The next layer should be one that is loose fitting and breaths. You want to create an area that can trap warm air. For me, if it's in the 40's to low 50's these two layers is all I need. If I get too warm, I can take the second layer off and tie it around my waist, if I get cool again I put it back on. Once the temp drops below 40 another layer might be needed to keep warm. The most bang for your buck is a fleece vest; these are relatively inexpensive and are amazingly warm, if you can get one that also acts as a wind breaker you can almost run in any temp. One thing about a vest is that it keeps your core warm. Your arms tend to stay toasty as long as your core is warm. If you get too warm, simply unzip the vest and let the cold air in.
Other items that are essential for running in cold weather is a stocking cap, gloves and socks. When it comes to these items the best material to get is wool....hands down. Some people do not like wool because it feels itchy; however, there are different types of wool. Merino wool for example is very soft and is extremely comfortable to wear. Wool has the ability to pull moister away from your body and can actually retain up to 40% of your body's heat even when completely soaked. Another advantage to wool is that it does not retain scent, hunters have been using it for years for this reason; this may not sound like a big deal but anyone that has ran for any length of time starts to stink, wool can help with this.
As you can see running in the cold really just takes a little prep beforehand. The two major things to do are to always dress in layers and pay attention before you head out the door. If you do those two things, your chances of having a great run go up exponentially.