Joplin, MO - Saturday, May 23, 2015 was the Armed Forces 5K & Kids Freedom Run. Proceeds from this event benefit the Joplin YMCA Military discount program.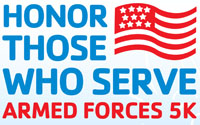 Complimentary photos of both the Armed Forces 5K and the Kids' Freedom Fun Run are available for download at ScoutFoto.com. Photographers were stationed at the start/finish line and throughout the course. Photos are searchable by bib number.
Thank you to all the sponsors, volunteers and participants for helping to support such a great cause.
ARMED FORCES 5K OVERALL RESULTS