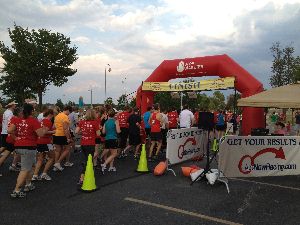 Nixa, MO - The 2nd Annual 5K for ADA Camp Earthworks was held Friday evening, July 13, 2012 at the Nixa Community Center. This event benefited ADA Camp Earthworks, which is a summer camp for kids with diabetes ages 5-14 or grades Pre K-8. The camp focuses on having fun while participating in a traditional camp experience. Campers will also learn techniques for managing nutrition, exercise and medications. ADA's Camp Earthworks fee includes medical supervision, a Camp T-shirt and supervised program activities.The American Diabetes Association is committed to providing educational information and referral services for children with diabetes and their families, advocating for fair and quality treatment of children with diabetes in schools, and increasing federal funding for diabetes research.
This was the first year the event was held at the Nixa Community Center and the turn out was a huge success with over 170 registered participants. The spectators at the finish line cheered on every single runner as they crossed the finish line and participants enjoyed pizza and other goodies after the race.
Thank you to all the sponsors, volunteers and participants for helping to support such a great cause. If you are interested in learning more about Camp Earthworks please contact Carla Wade at or cal 417-890-8400 ext. 6854.

ADA 5K Age Group Results

ADA 5K Overall Results