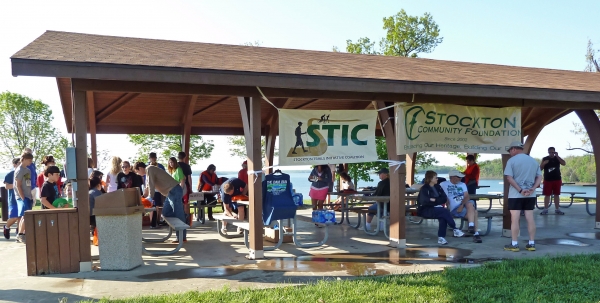 Stockton, MO - The second annual The Dam Run was Saturday, May 11, with approximately 115 entries either walking or running the dam for medals, trophies or just to help the Stockton Trails Initiative Coalition with their efforts to better and expand Stockton trails. Cool morning temperatures made for a great day for the event.
In the 5K, top male overall was Scott McNeal with a time of 19:41.84, and top female was Cristy Mahan with a time of 21:58.68. In the male 14 and younger division, Michael McNeal came in first with a time of 27:14.77 and Uriah Macomber was second with 27:57.64; males 15-19, first, Braxton Pitcher, 21:31.44, Conner Pohlsander, second, 21:43.82 and Ryan McDonald, third, 28:04.70; males 20-29, Isaac Naylor, first, 20:03.71, Seth Laub, second, 21:18.40 and Austin Laub, third, 21:52.99; males 30-39, David Hurford, first, 22:27.95, Chris Turner, second, 30:46.19 and Brian Wright, third, 35:25.15; males 40-49, Mark Mason, first, 20:20.63, Rod Hendricks, second, 30:14.93 and Kenneth Neal, third, 35:17.98; males 50-59, Keith Hankins, first, 32:30.11; and males 60 and older, Bill Sabados, first, 24:26.43.
Females in the 5K 14 and younger, Lena Pohlsander, first, 23:28.39 and Alyssa Wright, second, 34:14.24; females 20-29, Loraine Laub, first, 24:30.29, Rozella Laub, second, 24:43.36 and Vanessa Naylor, third, 28:39.24; females 30-39, Jaimee Rhoades, first, 25:13.87, Jennifer Pohlsander, second, 32:42.26 and Susana Bird, third, 33:11.52; females 40-49, Christine Macomber, first, 31:50.94, Kelly Hendricks, second, 31:58.39 and Kimber Otto, third, 34:26.34; females 50-59, Sondra Hurford, first, 38:16.91; and females 60 and older, Marilynne Billigmeier, first, 31:11.96.
In the 10K, Brian Hammons was the top male overall with a time of 40:57.59, and Erica Cox was the top female with a time of 58:33.53. In the male 30-39 division, Brandon Turner, first, 52:57.14, Rick Pohlsander, second, 58:12.95 and Jeremy Meyer, third, 58:30.72; males 40-49, Bob Gibson, first, 59:41.01; males 50-59, Jeff Witt, first, 50:29.42, Brent Drake, second, 1:01:37.97 and Rick Turner, third, 1:09:20.86; and males 60 and older, Greg Klein, first, 1:10:36.89.
In the female division, females 30-390, Kasha Zumwalt, first, 1:09:44.93; females 40-49, Leann Brussard, first, 1:06:34.07 and Christie Eads, second, 1:10:35.54.
T-shirts still are available for $10 each at Hammons Emporium and Happy O's Sportsmen Resort. All proceeds go to the Stockton Community Foundation STIC Fund for new and improved trail for all to enjoy free.

Dam Run 1 & 2 Mile Overall Results

Dam Run 5K Overall Results

Dam Run 5K Age Group Results

Dam Run 10K Overall Results

Dam Run 10K Age Group Results