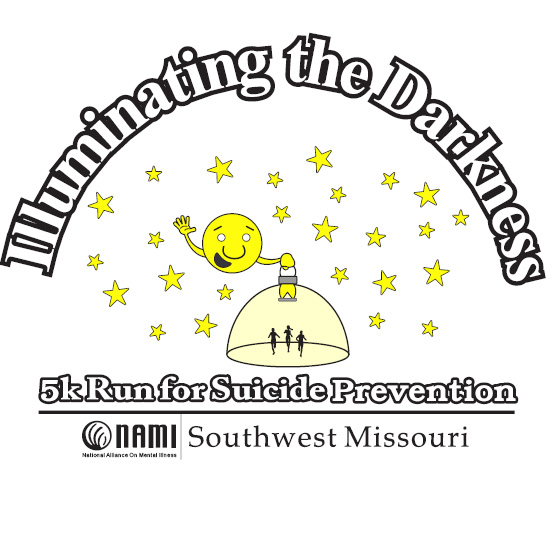 Springfield, MO - NAMI Illuminating the Darkness 5K was held Friday, August 24, 2012 at the Forest Institute in Springfield, MO. Since its inception, the "5K Illuminate the Darkness Suicide Prevention Run" presented by NAMI Southwest Missouri has aggressively sought to raise the awareness of attempts and completed suicides in our community. Evidence shows that 7-10 individuals are immediately impacted by the death of a loved one, friend, neighbor, and/or co-worker when an individual completes an act of "suicide". The rate for Missouri is 13 suicides per 100,000 capita while the Greene County rate was 16/100,000 - an unacceptable rate. Participants who ran in this race, helped to support the training that may help a family member, friend, neighbor, and/or co-worker move from an act of despair to one of hopefulness.
Over 250 walkers and runners came out to support NAMI and enjoyed pizza and refreshments after the race. Congratulations to the Overall Male Scott Podliska, with a time of 18:05 and the Overall Female Rachel Shuck, with a time of 21:25. Congradulations to the Honey Badgers for winning the Largest Group Award!!
Thank you to all the participants, volunteers and sponsors for helping to support a great cause.
Participants, if you're listed on the age divisions results in the top 3 and did not receive you're medal, please contact Dewayne Long at the NAMI Office (417)864-7119 or .

NAMI 5K Overall Results

NAMI 5K Age Group Results