Saturday, November 1, 2014, Nixa hosted the Class 4 Sectionals and Class 3 District Cross Country Meet at Inman Intermediate.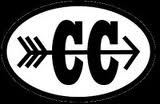 Schools in attendance included:
CLASS 4
Belton, Branson, Carthage, Jefferson City, Joplin, Kickapoo, Lebanon, Lee's Summit West, McDonald County, Neosho, Nixa, Ozark, Parkview, Raymore-Peculiar, Republic, Rolla, Waynesville, Webb City, West Plains, and Willard.
CLASS 3
Bolivar, Buffalo, Carl Junction, Cassville, East Newton, Hillcrest, Hollister, Logan-Rogersville, Marshfield, Monett, Reeds Spring and Seneca.
Thank you to all the Coaches, Staff, Volunteers, Parents & Runners for helping to make this a great event.
CLASS 3 & 4 ALTERNATE RACE RESULTS