Ready for a spooky, fun race? Twilight Thriller is Starlit Running Company's Halloween themed 5K Run/Walk where participants are encouraged to dress in costume and run the beautiful, luminary-lit Frisco Greenway Trail at twilight. With pre-race entertainment, chip timing, glow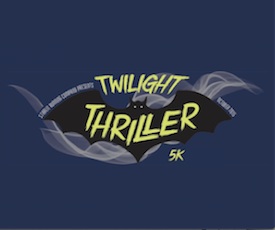 bracelets, 4 categories of costume awards, age category awards, music by a professional DJ, and post-race snacks including Starbucks coffee, hot chocolate, candy, cookies, and more, runners will enjoy a race atmosphere like no other.
October 24 – Twilight Thriller: 5K @ 6:30pm, and 1 Mile @ 6:00pm
Packet Pick-up:
Packet pick-up will be held at the race start on Race Day from 4p.m. to start of race.
Course Description:
Flat and fast out and back trail of hard-packed crushed rock. The trail will be lit with luminary bags, but headlamps are welcome.
Chip Timing:
Chip timing provided for all registered 5K.
Race Shirts:
5K and 1 Mile Run registrants registered by October 17th will be guaranteed a race shirt. After October 17th, shirts will be given on a first come, first serve basis.
Post-Race Goodies:
Runners will enjoy Starbucks coffee, hot chocolate, cookies, candy and other snacks provided by our sponsors.
Awards:
Costume awards will be awarded in the following categories: Best Male, Best Female, Best Couple, and Best Group. Prizes will be awarded to the overall male and female in the 5K distance. Age category awards will be given for the following age categories: 12 and under, 13-19, 20-29, 30-39, 40-49, 50-59, 60+
DJ:
There will be professional DJ playing music and keeping runners informed during the event.
Race Day Registration:
Race day registration will be available at the race start from 4:00p.m. to race start. The registration fee will increase on race day by $5 for the 5K. The 1 Mile Fun Run will remain fixed at $15.
1 Mile Fun Run:
Fun Run participants under the age of 12 will receive a finisher's medal. All Fun Run participants will enjoy post-race snacks and festivities.
Virtual 5K Option Available!
Runners who can't attend race night can sign up for the Virtual 5K. Virtual runners are not eligible for overall or age category awards. Virtual runner directions:
Run your virtual race distance anytime during the month of October.
On or after race day (October 24th), post your time result on either the Twilight Thriller Event page or on your My Activities dashboard on LocalRaces.com.
Our staff will then mail virtual runners their race shirt.
Event Organizer(s):

Results
Got Feedback? Take a moment to complete our Survey and let us know!Take the Survey
| | | | | | | | |
| --- | --- | --- | --- | --- | --- | --- | --- |
| Position | Bib # | Name | Finish | Pace | Age | Gender | Division |
| | | | | | | | |
| 1 | 371 | CRIGGER BRIAN | 17:15.46 | 5:34 | 33 | M | 5K |
| 2 | 107 | AMES JOSH | 17:28.56 | 5:38 | 17 | M | 5K |
| 3 | 284 | SMITH DALLAS | 17:46.91 | 5:44 | 16 | M | 5K |
| 4 | 252 | PATTERSON JACOB | 17:52.84 | 5:46 | 17 | M | 5K |
| 5 | 211 | JACKSON CALEB | 17:58.82 | 5:48 | 16 | M | 5K |
| 6 | 141 | CLOUSE DAYTON | 18:17.82 | 5:54 | 17 | M | 5K |
| 7 | 357 | CARNES LOGAN | 19:25.43 | 6:16 | 12 | M | 5K |
| 8 | 139 | CARTER BLAKE | 19:29.56 | 6:17 | 15 | M | 5K |
| 9 | 207 | HURFORD JEREMY | 19:30.73 | 6:17 | 31 | M | 5K |
| 10 | 370 | KRAMER MICHAEL | 19:35.76 | 6:19 | 21 | M | 5K |
| 11 | 233 | LOGAN BRYANT | 19:57.97 | 6:26 | 16 | M | 5K |
| 12 | 143 | COLE BRIAN | 20:17.92 | 6:33 | 42 | M | 5K |
| 13 | 325 | WITCHER DANIEL | 20:20.79 | 6:34 | 31 | M | 5K |
| 14 | 134 | BURNS AUSTIN | 20:39.03 | 6:40 | 14 | M | 5K |
| 15 | 147 | COX ELIZABETH | 20:44.44 | 6:41 | 29 | F | 5K |
| 16 | 355 | LEACH ELLA | 20:46.30 | 6:42 | 12 | F | 5K |
| 17 | 138 | CARTER BLAINE | 20:52.70 | 6:44 | 15 | M | 5K |
| 18 | 119 | BENNION JACOB | 20:54.48 | 6:45 | 14 | M | 5K |
| 19 | 329 | MYERS TERRY | 20:59.20 | 6:46 | 52 | M | 5K |
| 20 | 390 | HICKS JOSHUA | 21:01.09 | 6:47 | 14 | M | 5K |
| 21 | 287 | SORRELL KINSEY | 21:08.56 | 6:49 | 15 | F | 5K |
| 22 | 190 | HAYWARD JAYLEN | 21:08.92 | 6:49 | 15 | F | 5K |
| 23 | 327 | YANG CHA | 21:20.47 | 6:53 | 15 | M | 5K |
| 24 | 228 | LAUGHLIN NATHANIEL | 21:28.23 | 6:55 | 17 | M | 5K |
| 25 | 245 | MILLER DUSTIN | 21:28.30 | 6:55 | 44 | M | 5K |
| 26 | 291 | STEPHENS EMILY | 21:30.30 | 6:56 | 21 | F | 5K |
| 27 | 225 | KIRKPATRICK RAY | 21:33.86 | 6:57 | 42 | M | 5K |
| 28 | 268 | RITCHHART RUSS | 21:37.62 | 6:58 | 65 | M | 5K |
| 29 | 251 | PALMER DANA | 21:41.07 | 6:59 | 17 | F | 5K |
| 30 | 280 | SHAEFFER NICHOLAS | 21:46.46 | 7:01 | 9 | M | 5K |
| 31 | 391 | NESSLER COLTAR | 21:47.63 | 7:02 | 20 | M | 5K |
| 32 | 194 | HICKMAN KENDRA | 21:57.33 | 7:05 | 14 | F | 5K |
| 33 | 269 | RITCHHART KATHY | 22:00.10 | 7:06 | 55 | F | 5K |
| 34 | 162 | UNKNOWN | 22:03.86 | 7:07 | | | 5K |
| 35 | 214 | JENSEN BELLA | 22:04.93 | 7:07 | 13 | F | 5K |
| 36 | 232 | LOGAN BRYTNI | 22:14.24 | 7:10 | 15 | F | 5K |
| 37 | 319 | WHITE CHRIS | 22:34.61 | 7:17 | 51 | M | 5K |
| 38 | 208 | HURFORD DAVID | 22:51.76 | 7:22 | 56 | M | 5K |
| 39 | 116 | BEECHER BRAD | 23:01.53 | 7:25 | 49 | M | 5K |
| 40 | 209 | HURFORD THOMAS | 23:07.45 | 7:27 | 27 | M | 5K |
| 41 | 145 | COOK BRIAN | 23:07.89 | 7:27 | 36 | M | 5K |
| 42 | 385 | GARY DONNIE | 23:08.53 | 7:28 | 45 | M | 5K |
| 43 | 383 | GRIGG MIKE | 23:13.22 | 7:29 | 42 | M | 5K |
| 44 | 149 | CRANE SEAN | 23:20.78 | 7:32 | 25 | M | 5K |
| 45 | 140 | CHEFFINS TOM | 23:30.84 | 7:35 | 61 | M | 5K |
| 46 | 126 | BOX NATHAN | 23:46.94 | 7:40 | 36 | M | 5K |
| 47 | 354 | PARISE SHAWN | 24:07.20 | 7:47 | 31 | M | 5K |
| 48 | 310 | WALL NATHANYAL | 24:10.77 | 7:48 | 14 | M | 5K |
| 49 | 234 | LOWERY BECKY | 24:13.56 | 7:49 | 49 | F | 5K |
| 50 | 238 | MATURINO BILLY | 24:19.73 | 7:51 | 11 | M | 5K |
| 51 | 262 | PROFFITT MISSY | 24:45.25 | 7:59 | 43 | F | 5K |
| 52 | 226 | KOCH AIDAN | 25:04.55 | 8:05 | 9 | M | 5K |
| 53 | 312 | WATSON BLAKE | 25:14.44 | 8:08 | 26 | M | 5K |
| 54 | 365 | CHEW SHANNON | 25:16.84 | 8:09 | 36 | M | 5K |
| 55 | 204 | HOWARD MALORIE | 25:30.44 | 8:14 | 26 | F | 5K |
| 56 | 236 | MANLEY ERIN | 26:08.56 | 8:26 | 28 | F | 5K |
| 57 | 369 | SCOTT SAM | 26:19.14 | 8:29 | 34 | M | 5K |
| 58 | 353 | PARISE STEPHANIE | 26:25.77 | 8:31 | 31 | F | 5K |
| 59 | 279 | SEDRICK CAITLIN | 26:32.19 | 8:34 | 13 | F | 5K |
| 60 | 258 | POGUE DUGAN | 26:34.66 | 8:34 | 9 | M | 5K |
| 61 | 105 | ALTIC APRIL | 26:35.17 | 8:35 | 34 | F | 5K |
| 62 | 121 | BLACK ZACHARY | 26:41.69 | 8:36 | 10 | M | 5K |
| 63 | 375 | PYLE JERRY | 26:43.46 | 8:37 | 65 | M | 5K |
| 64 | 223 | KING KAREN | 26:43.51 | 8:37 | 52 | F | 5K |
| 65 | 362 | SUMMERS AUTUMN | 26:57.29 | 8:42 | 16 | F | 5K |
| 66 | 115 | BARNHART ANNA | 27:03.70 | 8:44 | 9 | F | 5K |
| 67 | 202 | HORTON RICK | 27:14.97 | 8:47 | 52 | M | 5K |
| 68 | 106 | ALVARADO LUIS | 27:25.55 | 8:51 | 10 | M | 5K |
| 69 | 254 | PATTERSON LARRY | 27:25.83 | 8:51 | 45 | M | 5K |
| 70 | 338 | HOLDEN ZACH | 27:26.98 | 8:51 | 37 | M | 5K |
| 71 | 197 | HOLDEN MICHA | 27:28.99 | 8:52 | 7 | F | 5K |
| 72 | 255 | PATTERSON TONYA | 27:30.11 | 8:52 | 44 | F | 5K |
| 73 | 347 | FEATHERSTONE MEGHAN | 27:35.99 | 8:54 | 27 | F | 5K |
| 74 | 128 | BROWN SKYLAR | 27:46.70 | 8:57 | 16 | F | 5K |
| 75 | 286 | SORRELL EMILY | 27:47.34 | 8:58 | 17 | F | 5K |
| 76 | 218 | JOHNSON JAHNAVI | 27:47.45 | 8:58 | 37 | F | 5K |
| 77 | 360 | BERRY AUDREY | 27:54.63 | 9:00 | 18 | F | 5K |
| 78 | 290 | STEPHENS SHEILA | 28:00.26 | 9:02 | 43 | F | 5K |
| 79 | 333 | BLIZZARD CAITLIN | 28:05.75 | 9:04 | 23 | F | 5K |
| 80 | 152 | CRAWLEY TIMOTHY | 28:12.49 | 9:06 | 47 | M | 5K |
| 81 | 352 | JONES CHRISTY | 28:12.58 | 9:06 | 39 | F | 5K |
| 82 | 108 | ANTHONY BRITTANY | 28:38.63 | 9:14 | 30 | F | 5K |
| 83 | 179 | GOINS KELSIE | 28:38.72 | 9:14 | 21 | F | 5K |
| 84 | 337 | CHIRAFISI ANDREA | 28:42.08 | 9:15 | 46 | F | 5K |
| 85 | 117 | BENFORD JESSICA | 28:45.74 | 9:16 | 23 | F | 5K |
| 86 | 158 | DECKER JED | 28:48.18 | 9:17 | 14 | M | 5K |
| 87 | 191 | HAYWARD STAN | 29:01.43 | 9:22 | 46 | M | 5K |
| 88 | 123 | BOGDON ABBY | 29:02.11 | 9:22 | 26 | F | 5K |
| 89 | 368 | LANDES STACE | 29:10.24 | 9:25 | 49 | F | 5K |
| 90 | 379 | EVANS NANCY | 29:10.87 | 9:25 | 52 | F | 5K |
| 91 | 340 | PROFFITT DON | 29:13.37 | 9:25 | 43 | M | 5K |
| 92 | 184 | HANCE DENEISE | 29:20.46 | 9:28 | 48 | F | 5K |
| 93 | 253 | PATTERSON WYATT | 29:23.24 | 9:29 | 12 | M | 5K |
| 94 | 384 | BATTAGLER TAMARA | 29:25.15 | 9:29 | 32 | F | 5K |
| 95 | 345 | HERRON LIESL | 29:26.34 | 9:30 | 22 | F | 5K |
| 96 | 161 | DUNCAN LUCA BELLA | 29:30.72 | 9:31 | 9 | F | 5K |
| 97 | 351 | KIM JENNY | 29:36.17 | 9:33 | 30 | F | 5K |
| 98 | 359 | SUTHERLIN ZANE | 29:37.22 | 9:33 | 25 | M | 5K |
| 99 | 358 | SUTHERLAN BETHANY | 29:37.80 | 9:33 | 23 | F | 5K |
| 100 | 220 | KELLEY EMMA | 29:44.96 | 9:35 | 8 | F | 5K |
| 101 | 324 | WILSON SHEREE | 29:46.82 | 9:36 | 59 | F | 5K |
| 102 | 266 | REHMERT TRACIE | 29:48.09 | 9:37 | 42 | F | 5K |
| 103 | 309 | VANTREASE MELISSA | 29:49.94 | 9:37 | 41 | F | 5K |
| 104 | 227 | KUMBIER KELLY | 29:54.48 | 9:39 | 8 | F | 5K |
| 105 | 294 | STONE HOLLY | 29:55.94 | 9:39 | 28 | F | 5K |
| 106 | 300 | THACH LISA | 30:15.13 | 9:45 | 47 | F | 5K |
| 107 | 239 | MCCARLEY JESS | 30:17.61 | 9:46 | 41 | M | 5K |
| 108 | 257 | POGUE MEGAN | 30:17.83 | 9:46 | 31 | F | 5K |
| 109 | 361 | BERRY JASON | 30:19.46 | 9:47 | 43 | M | 5K |
| 110 | 118 | BENNETT ANITA | 30:22.09 | 9:48 | 57 | F | 5K |
| 111 | 164 | ELLIOTT ERICA | 30:25.65 | 9:49 | 33 | F | 5K |
| 112 | 248 | NAVARRO GAYL | 30:28.49 | 9:50 | 59 | F | 5K |
| 113 | 219 | JORDON ANDREW | 30:29.44 | 9:50 | 10 | M | 5K |
| 114 | 392 | JORDAN BRENT | 30:34.49 | 9:52 | 45 | M | 5K |
| 115 | 350 | GILBERT JEANNIE | 30:42.21 | 9:54 | 45 | F | 5K |
| 116 | 363 | CLARK DAVIS MEGAN | 30:57.56 | 9:59 | 32 | F | 5K |
| 117 | 146 | COX TY | 31:00.05 | 10:00 | 29 | M | 5K |
| 118 | 148 | COX CARTER | 31:00.26 | 10:00 | 2 | M | 5K |
| 119 | 213 | JACKSON CINDI | 31:02.10 | 10:01 | 47 | F | 5K |
| 120 | 125 | BORUP SEVEN | 31:09.30 | 10:03 | 12 | F | 5K |
| 121 | 199 | HOLLAND NOEL | 31:09.65 | 10:03 | 46 | F | 5K |
| 122 | 317 | WELLS DONNA | 31:20.28 | 10:06 | 53 | F | 5K |
| 123 | 250 | OAKES MACEE | 31:24.98 | 10:08 | 9 | F | 5K |
| 124 | 198 | HOLDEN ALEXANDRA | 31:33.67 | 10:11 | 9 | F | 5K |
| 125 | 313 | WATSON RANDI | 31:36.56 | 10:12 | 25 | F | 5K |
| 126 | 292 | STEVENSON HANNA | 31:48.52 | 10:15 | 26 | F | 5K |
| 127 | 264 | REEDER KIMMIE | 31:49.03 | 10:16 | 31 | F | 5K |
| 128 | 229 | LEDFORD SUSAN | 31:57.25 | 10:18 | 39 | F | 5K |
| 129 | 163 | EBEY KATY | 32:04.68 | 10:21 | 24 | F | 5K |
| 130 | 111 | BAKER REGINA | 32:07.71 | 10:22 | 35 | F | 5K |
| 131 | 186 | HARBAUGH ANNETTE | 32:09.12 | 10:22 | 55 | F | 5K |
| 132 | 270 | ROBINSON NATALIE | 32:11.69 | 10:23 | 37 | F | 5K |
| 133 | 178 | GARCIA CAMERON | 32:29.09 | 10:29 | 8 | M | 5K |
| 134 | 273 | SANDERS ROB | 32:30.92 | 10:29 | 51 | M | 5K |
| 135 | 282 | SINGH ROB | 32:32.99 | 10:30 | 37 | M | 5K |
| 136 | 377 | NEWTON LESLEY | 32:33.43 | 10:30 | 50 | F | 5K |
| 137 | 376 | PYLE PATTY | 32:37.87 | 10:31 | 62 | F | 5K |
| 138 | 230 | LITTRELL LUCAS | 32:45.08 | 10:34 | 10 | M | 5K |
| 139 | 221 | KERR ASHLEY | 32:45.53 | 10:34 | 29 | F | 5K |
| 140 | 271 | ROSS BRIAN | 32:48.99 | 10:35 | 51 | M | 5K |
| 141 | 187 | HATFIELD CARRI | 32:49.21 | 10:35 | 47 | F | 5K |
| 142 | 249 | NEIDHOLDT JULIE | 32:51.23 | 10:36 | 43 | F | 5K |
| 143 | 156 | DA VANG PA | 33:05.05 | 10:40 | 22 | F | 5K |
| 144 | 222 | KESSLER PEYTON | 33:09.39 | 10:42 | 42 | F | 5K |
| 145 | 388 | NEIDHOLDT JULIE | 33:11.42 | 10:42 | 43 | F | 5K |
| 146 | 283 | SITTON KATIE | 33:16.02 | 10:44 | 37 | F | 5K |
| 147 | 387 | HEWTER KARA | 33:16.65 | 10:44 | 34 | F | 5K |
| 148 | 328 | WILSON CHRISTINA | 33:20.29 | 10:45 | 32 | F | 5K |
| 149 | 153 | CRUMBLISS SHERRY | 33:23.35 | 10:46 | 51 | F | 5K |
| 150 | 135 | BURNS JAMES | 33:28.23 | 10:48 | 57 | M | 5K |
| 151 | 334 | FOSS LARISSA | 33:45.14 | 10:53 | 34 | F | 5K |
| 152 | 127 | BRAZELTON CHERI | 33:47.58 | 10:54 | 62 | F | 5K |
| 153 | 335 | SQUIRES TERRY | 33:59.19 | 10:58 | 58 | M | 5K |
| 154 | 304 | THOMPSON GARRETT | 33:59.62 | 10:58 | 10 | M | 5K |
| 155 | 240 | MCCARLEY BARBARA | 34:02.20 | 10:59 | 41 | F | 5K |
| 156 | 102 | ADAMS JESSALYN | 34:02.44 | 10:59 | 11 | F | 5K |
| 157 | 364 | SHARROCK CARA | 34:08.87 | 11:01 | 48 | F | 5K |
| 158 | 114 | BARKER PAIGE | 34:18.23 | 11:04 | 36 | F | 5K |
| 159 | 131 | BRUMMETT KORBIN | 34:18.49 | 11:04 | 14 | M | 5K |
| 160 | 260 | PRIDE MACKYNZE | 34:27.57 | 11:07 | 13 | F | 5K |
| 161 | 311 | WALLACE KIMBERLY | 34:32.93 | 11:08 | 28 | F | 5K |
| 162 | 174 | FARRAN KERRY | 34:39.09 | 11:11 | 45 | F | 5K |
| 163 | 150 | CRANE KERENZA | 34:46.40 | 11:13 | 29 | F | 5K |
| 164 | 201 | HOOVER RACHELL | 34:51.29 | 11:15 | 46 | F | 5K |
| 165 | 176 | FINLEY CARROLL | 34:59.73 | 11:17 | 74 | M | 5K |
| 166 | 332 | KILPATRICK DUSTIN | 35:00.50 | 11:17 | 16 | M | 5K |
| 167 | 241 | MCCARLEY SHELBY | 35:00.68 | 11:17 | 19 | F | 5K |
| 168 | 393 | HENRY JUSTIN | 35:05.14 | 11:19 | 33 | M | 5K |
| 169 | 203 | HORTON LANELLE | 35:06.95 | 11:19 | 50 | F | 5K |
| 170 | 112 | BALLARD BOBBY | 35:10.06 | 11:21 | 56 | M | 5K |
| 171 | 296 | SUMMIT ERIN | 35:11.30 | 11:21 | 13 | F | 5K |
| 172 | 320 | WHITE LARAMIE | 35:15.73 | 11:22 | 12 | F | 5K |
| 173 | 129 | BROWN KAITLYN | 35:16.30 | 11:23 | 12 | F | 5K |
| 174 | 303 | THOMPSON STEPHANIE M | 35:20.50 | 11:24 | 42 | F | 5K |
| 175 | 246 | MORTON BRANDY | 35:45.66 | 11:32 | 30 | F | 5K |
| 176 | 315 | WEBB TAMMY | 35:45.83 | 11:32 | 45 | F | 5K |
| 177 | 130 | BROWNLOW SAMANTHA | 35:50.80 | 11:34 | 43 | F | 5K |
| 178 | 274 | SANDERS CINDY | 36:09.84 | 11:40 | 56 | F | 5K |
| 179 | 183 | GRIMES PEYTON | 36:11.43 | 11:40 | 12 | F | 5K |
| 180 | 166 | ELSWICK STEPHANIE | 37:11.14 | 11:59 | 52 | F | 5K |
| 181 | 177 | FROGGE EMMA | 37:21.22 | 12:03 | 26 | F | 5K |
| 182 | 104 | ALLEN MICHELLE | 37:26.58 | 12:05 | 38 | F | 5K |
| 183 | 295 | STRAUGHN LILLI | 37:43.83 | 12:10 | 13 | F | 5K |
| 184 | 133 | BUFFER KARI | 38:01.09 | 12:16 | 36 | F | 5K |
| 185 | 200 | HOLMES TARA | 38:22.54 | 12:23 | 38 | F | 5K |
| 186 | 277 | WHISTLER XIOMARA | 39:09.69 | 12:38 | 47 | F | 5K |
| 187 | 215 | JOHNSON CHARLEY | 39:17.44 | 12:40 | 50 | F | 5K |
| 188 | 276 | SCHAFFNER STEVE | 39:19.39 | 12:41 | 57 | M | 5K |
| 189 | 259 | POWERS TONNA | 39:20.56 | 12:41 | 41 | F | 5K |
| 190 | 278 | SCRAPER ROBERT | 39:36.77 | 12:46 | 22 | M | 5K |
| 191 | 188 | HAYES LINDSEY | 39:47.91 | 12:50 | 33 | F | 5K |
| 192 | 170 | ERSKIN MAEGAN | 39:49.85 | 12:51 | 30 | F | 5K |
| 193 | 372 | WRIGHT CASIE | 40:09.30 | 12:57 | 34 | F | 5K |
| 194 | 231 | LODAHL KALENA | 40:22.75 | 13:01 | 23 | F | 5K |
| 195 | 136 | BYERS BRENT | 40:50.40 | 13:10 | 42 | M | 5K |
| 196 | 137 | BYERS STEFANIE | 40:51.27 | 13:11 | 41 | F | 5K |
| 197 | 144 | COMER MIRANDA | 40:55.92 | 13:12 | 32 | F | 5K |
| 198 | 110 | BABB CURT | 40:56.21 | 13:12 | 62 | M | 5K |
| 199 | 122 | BLISS JOSIE | 40:57.56 | 13:13 | 13 | F | 5K |
| 200 | 281 | SHERWOOD NICOLE | 40:58.04 | 13:13 | 12 | F | 5K |
| 201 | 261 | PRIDE ERIKA | 41:08.28 | 13:16 | 41 | F | 5K |
| 202 | 109 | ARAYA SAVANNAH | 41:09.05 | 13:16 | 13 | F | 5K |
| 203 | 323 | WHITEHEAD TRACY | 41:16.82 | 13:19 | 41 | F | 5K |
| 204 | 389 | HAGAR ELIZABETH | 41:41.84 | 13:27 | 25 | F | 5K |
| 205 | 181 | GRASSO DENISE | 41:42.52 | 13:27 | 60 | F | 5K |
| 206 | 297 | SURY KOLBY | 41:48.85 | 13:29 | 10 | M | 5K |
| 207 | 165 | ELSWICK MIKE | 41:49.62 | 13:29 | 63 | M | 5K |
| 208 | 330 | NIEDERT TEARA | 41:50.94 | 13:30 | 29 | F | 5K |
| 209 | 272 | RUDDICK ABBY | 41:51.79 | 13:30 | 26 | F | 5K |
| 210 | 302 | THOMAS ASHLEY | 42:06.26 | 13:35 | 30 | F | 5K |
| 211 | 182 | GREENE RACHEL | 42:07.15 | 13:35 | 40 | F | 5K |
| 212 | 169 | ENSOR BRANDI | 42:47.90 | 13:48 | 39 | F | 5K |
| 213 | 293 | STOKES DONNA | 43:23.77 | 13:59 | 58 | F | 5K |
| 214 | 307 | ULREY KRISTINA | 43:26.68 | 14:01 | 35 | F | 5K |
| 215 | 308 | ULREY BERKELEY | 43:44.07 | 14:06 | 7 | M | 5K |
| 216 | 235 | LYBECK MANDY | 44:09.70 | 14:15 | 40 | F | 5K |
| 217 | 265 | REHMERT AMANDA | 45:02.93 | 14:32 | 35 | F | 5K |
| 218 | 224 | KINGERY EMILY | 45:09.47 | 14:34 | 8 | F | 5K |
| 219 | 301 | THETGE BAILEE | 45:22.36 | 14:38 | 8 | F | 5K |
| 220 | 321 | WHITE ANGIE | 45:28.70 | 14:40 | 31 | F | 5K |
| 221 | 378 | THOMPSON JASON | 45:48.31 | 14:46 | 44 | M | 5K |
| 222 | 322 | WHITE RENEE | 45:54.34 | 14:48 | 53 | F | 5K |
| 223 | 192 | HEATH REBECCA | 45:56.88 | 14:49 | 33 | F | 5K |
| 224 | 212 | JACKSON LANEY | 46:25.31 | 14:58 | 14 | F | 5K |
| 225 | 386 | SAUNDERS GARY | 46:41.33 | 15:04 | 56 | M | 5K |
| 226 | 285 | SMITH JENNIFER | 46:46.31 | 15:05 | 38 | F | 5K |
| 227 | 380 | HATFIELD CARRI | 46:47.02 | 15:05 | 47 | F | 5K |
| 228 | 394 | ADAMS BETH | 46:50.07 | 15:06 | 32 | F | 5K |
| 229 | 113 | BARGER-SAUNDERS BRENDA | 46:53.34 | 15:07 | 56 | F | 5K |
| 230 | 132 | BRUMMETT JACKIE | 46:58.86 | 15:09 | 33 | F | 5K |
| 231 | 185 | HANSEN SAM | 47:09.42 | 15:13 | 15 | M | 5K |
| 232 | 346 | SMARDO AMANDA | 47:10.68 | 15:13 | 32 | F | 5K |
| 233 | 306 | TOMLINSON LENA | 47:46.24 | 15:25 | 45 | F | 5K |
| 234 | 189 | HAYS TAMMIE | 47:47.18 | 15:25 | 42 | F | 5K |
| 235 | 124 | BOND KYLEE | 47:53.90 | 15:27 | 19 | F | 5K |
| 236 | 366 | WHEELER JASON | 48:17.91 | 15:35 | 42 | M | 5K |
| 237 | 367 | WHEELER MICHELLE | 48:18.36 | 15:35 | 45 | F | 5K |
| 238 | 342 | CLARK JENNIFER | 49:01.26 | 15:49 | 40 | F | 5K |
| 239 | 343 | CLARK CHAD | 49:02.08 | 15:49 | 44 | M | 5K |
| 240 | 298 | SWITZER CRAIG | 49:32.92 | 15:59 | 40 | M | 5K |
| 241 | 299 | SWITZER LISA | 49:32.95 | 15:59 | 8 | F | 5K |
| 242 | 237 | MATURINO SERGIO | 49:35.26 | 15:59 | 9 | M | 5K |
| 243 | 155 | CULLEN RUTHANNA | 50:24.82 | 16:15 | 56 | F | 5K |
| 244 | 154 | CULLEN JESSICA | 50:25.12 | 16:16 | 30 | F | 5K |
| 245 | 205 | HUDSON OWEN | 51:27.49 | 16:36 | 47 | M | 5K |
| 246 | 206 | HUDSON CATHY | 51:28.19 | 16:36 | 42 | F | 5K |
| 247 | 344 | WORLEY THERESA | 52:02.18 | 16:47 | 53 | F | 5K |
| 248 | 348 | ALLEMANN MACKINSIE | 52:02.89 | 16:47 | 30 | F | 5K |
| 249 | 336 | LOWERY AMBER | 52:39.62 | 16:59 | 27 | F | 5K |
| 250 | 193 | HENRY LAURA | 52:40.34 | 16:59 | 39 | F | 5K |
| 251 | 160 | DICKEY MELODY | 53:42.11 | 17:19 | 38 | F | 5K |
| 252 | 244 | MILLER SHAWN | 53:42.39 | 17:19 | 38 | M | 5K |
| 253 | 172 | EVANS NANCY | 53:56.03 | 17:24 | 52 | F | 5K |
| 254 | 101 | ACHEY AUTUMN | 54:00.25 | 17:25 | 14 | F | 5K |
| 255 | 210 | HURFORD SONDRA | 54:45.03 | 17:40 | 58 | F | 5K |
| 256 | 318 | WESTON TONI | 55:01.81 | 17:45 | 53 | F | 5K |
| 257 | 195 | HINDS KATHERINE | 55:02.00 | 17:45 | 46 | F | 5K |
| 258 | 196 | HINDS COURTNEY | 55:03.40 | 17:45 | 16 | F | 5K |
| 259 | 168 | ENGLAND TRINNATEA | 55:03.96 | 17:45 | 15 | F | 5K |
| 260 | 167 | ENGLAND RADEN | 55:06.25 | 17:46 | 13 | F | 5K |
| 261 | 326 | WRIGHT SHAYLA | 55:12.57 | 17:48 | 32 | F | 5K |
| 262 | 267 | RHEAULT JULIE | 56:07.23 | 18:06 | 34 | F | 5K |
| 263 | 171 | ETSE TITO | 56:30.21 | 18:14 | 10 | M | 5K |
| 264 | 289 | STAFFORD LELAND | 57:54.11 | 18:41 | 9 | M | 5K |
| 265 | 242 | MCDANIEL KALLIE | 58:17.27 | 18:48 | 27 | F | 5K |
| 266 | 305 | THURMAN DORETTA | 1:00:21.83 | 19:28 | 62 | F | 5K |
| 267 | 314 | WEAVER JOSHUA | 1:00:23.37 | 19:29 | 8 | M | 5K |
| 268 | 288 | SPENCE NONA | 1:00:23.73 | 19:29 | 63 | F | 5K |
(Event 120,65)