Fordland Community Care Day and 5K Run/Walk & Kid Fun Run
When: September 19, 2015 – 5K Run/Walk @ 8:00am & Kid Fun Run @ 9:00 a.m.
Where: Run begins at Fordland City Park

New This Year: Dress as your favorite character!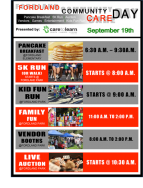 Awards: 5K Run Divisions: Male and Female: 10 & Under, 11-13, 14-19, 20-29, 30-39, 40-49, 50-59, 60-69, 70 and Up.
Kid Fun Run Divisions: 5 & Under, 6, 7, & 8
Awards will be presented at the Fordland City Park immediately after the race finishes. The top 3 finishers of each division of the 5K Run will receive an award. The Kid Fun Run will have prizes for the top runner in each age group. All Kid Fun Run participants will receive a medal for finishing.
Registration:
In order to be guaranteed a t-shirt in your requested size, we must receive your registration by September 5th, 2015.
Pre-Registration (includes t-shirt): Day of Race (t-shirt not guaranteed):
Adults $20 Child (K-12) $10 Adults $30 Child (K-12) $15
This year we will be offering a FREE supervised childcare area during the 5KRun/Walk. Please mark on your registration below if you are interested in utilizing this.
Please see attached form for mailing your registration or submitting it online.
The race will take place rain or shine.
Care To Learn - FordlandThank you!
You may stay up to date with any additional information by visiting us on our race page at
www.facebook.com/CTL5K or our main Care To Learn – Fordland page at www.facebook.com/C2LFORDLAND.
Event Organizer(s):

Results
debug: CSV
| | | | | | | | | |
| --- | --- | --- | --- | --- | --- | --- | --- | --- |
| Position | Bib # | Name | Finish | Pace | Age | Gender | City | Division |
| | | | | | | | | |
| 1 | 85 | JAKE FARNSWORTH | 22:52.51 | 7:23 | 14 | M | FORDLAND | 5K |
| 2 | 63 | JOSEPH JOHNSON | 23:06.42 | 7:27 | 35 | M | AVA | 5K |
| 3 | 86 | JOSH KRYSIAK | 23:36.48 | 7:37 | 15 | M | FORDLAND | 5K |
| 4 | 10 | TOM CHEFFINS | 23:47.46 | 7:40 | 61 | M | OZARKS | 5K |
| 5 | 62 | DUSTIN HAYNES | 23:59.01 | 7:44 | 15 | M | FORDLAND | 5K |
| 6 | 94 | AMY HART | 24:08.74 | 7:47 | 35 | F | | 5K |
| 7 | 64 | ETHAN JOHNSON | 25:04.73 | 8:05 | 12 | M | AVA | 5K |
| 8 | 74 | RILEY WILLIAMS | 26:03.58 | 8:24 | 12 | M | | 5K |
| 9 | 60 | KAYLA GETMAN | 26:46.26 | 8:38 | 31 | F | DADEVILLE | 5K |
| 10 | 87 | LARRY MCKNIGHT | 26:47.80 | 8:38 | 49 | M | ROGERSVILLE | 5K |
| 11 | 93 | JACOB HILL | 28:02.17 | 9:03 | 17 | M | | 5K |
| 12 | 75 | MERCEDES VALEIKA | 28:18.73 | 9:08 | 16 | F | FORDLAND | 5K |
| 13 | 83 | TREVOR PAGE | 28:59.18 | 9:21 | 18 | M | FORDLAND | 5K |
| 14 | 84 | MASON PAGE | 29:43.40 | 9:35 | 15 | M | FORDLAND | 5K |
| 15 | 81 | LUCAS CULBERTSON | 31:26.18 | 10:08 | 12 | M | FORDLAND | 5K |
| 16 | 66 | PATRICK LEMMON | 31:30.73 | 10:10 | 41 | M | NIXA | 5K |
| 17 | 95 | CHERYL WILSON | 31:57.72 | 10:18 | 53 | F | | 5K |
| 18 | 88 | TERRY MCKNIGHT | 32:28.79 | 10:28 | 49 | M | FORDLAND | 5K |
| 19 | 5 | JENNY ANDREWS | 33:59.07 | 10:58 | 37 | F | SEYMOUR | 5K |
| 20 | 82 | PAM HENSLEY | 34:00.29 | 10:58 | 68 | F | FORDLAND | 5K |
| 21 | 6 | LORALEE BAUGHMAN | 34:03.94 | 10:59 | 42 | F | FORDLAND | 5K |
| 22 | 65 | MELEAH JOHNSON | 34:58.50 | 11:17 | 36 | F | AVA | 5K |
| 23 | 72 | TAYLOR WILLIAMS | 37:47.70 | 12:11 | 14 | F | | 5K |
| 24 | 91 | RIKKI HOLMES | 37:51.13 | 12:13 | 40 | F | | 5K |
| 25 | 68 | ROBERT MANNING | 38:31.79 | 12:25 | 51 | M | MARSHFIELD | 5K |
| 26 | 71 | MANDY WILLIAMS | 42:31.54 | 13:43 | 36 | F | | 5K |
| 27 | 73 | TIMMY WILLIAMS | 42:36.46 | 13:45 | 39 | M | | 5K |
| 28 | 96 | CALEB BROWN | 43:53.93 | 14:09 | 9 | M | | 5K |
| 29 | 92 | LUKE HOLMES | 43:55.95 | 14:10 | 9 | M | FORDLAND | 5K |
| 30 | 80 | RONI BUTTRAM | 44:24.60 | 14:19 | 12 | F | FORDLAND | 5K |
| 31 | 67 | RAY LEVETA | 46:30.52 | 15:00 | 59 | F | SEYMOUR | 5K |
| 32 | 79 | HAILEY DARIS | 48:00.10 | 15:29 | 12 | F | SEYMOUR | 5K |
| 33 | 97 | VICKIE KERSINGER | 48:24.34 | 15:37 | 64 | F | | 5K |
| 34 | 77 | SHELLEY CLAXTON | 51:20.73 | 16:34 | 50 | F | FORDLAND | 5K |
| 35 | 78 | TOBY CLAXTON | 51:25.06 | 16:35 | 43 | M | FORDLAND | 5K |
| 36 | 76 | ALESHIA CLAXTON | 51:27.17 | 16:36 | 17 | F | FORDLAND | 5K |
| 37 | 11 | BARBARA GDANITZ | 52:53.38 | 17:04 | 71 | F | FORDLAND | 5K |
| 38 | 98 | JASMINE PAGE | 55:28.72 | 17:54 | 10 | F | | 5K |
| 39 | 90 | JAMMI GLENN | 58:12.96 | 18:46 | 32 | F | FORDLAND | 5K |
| 40 | 89 | CADE NARRIS | 58:24.35 | 18:50 | 10 | M | FORDLAND | 5K |
(Event 125,70)