This fantastic event will be benefiting our local Make a Wish Chapter. That means all the money will stay in this area (Southwest Missouri) to help families in our region!! For more information on this wonderful organization check out their website at: www. http://mo.wish.org/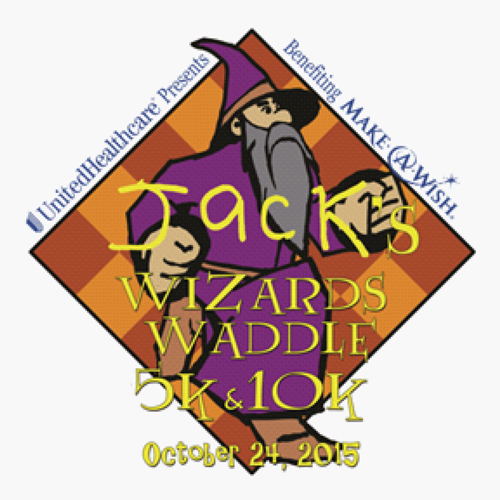 ENTRY FEE:
5K Registration until 10/8: $30
5K Registration on Race Day: $35
10K Registration until 10/8: $35
10K Registration on Race Day: $40
*FINISHER MEDALS FOR ALL!!
*LONG SLEEVE BLACK TECH SHIRT
*FACE PAINTING & OTHER FUN KID ACTIVITIES
**OMRR 2ND FALL TRIPLE CROWN EVENT
Team Option: Help us race more for Make a Wish. The team that raises the most will win a trophy!
How to register as a team:
Select a team name.
Teams are made up of 2 to 6 members.
Team members must register at the same time.
You can register online at actnowracing.com, then go to Make a Wish Fundraising Website
Each team is required to fundraise at least $50 a person.
Each member of the team is required to sign a waiver.
PACKET PICK UP: Friday, October 23, from 4PM to 7PM at United Healthcare (1930 W. Bennett Street): Race Morning at Rountree Elementary starting 6:30AM to 7:45AM.
JACKS WIZARD WADDLE REGISTRATION FORM
Event Organizer(s):

Results
Got Feedback? Take a moment to complete our Survey and let us know!Take the Survey
| | | | | | | | | |
| --- | --- | --- | --- | --- | --- | --- | --- | --- |
| Position | Bib # | Name | Finish | Pace | Age | Gender | City | Division |
| | | | | | | | | |
| 1 | 218 | COBB ZACH | 18:03.08 | 5:49 | 23 | M | | 5K |
| 2 | 222 | JONES JEFF | 18:35.91 | 5:59 | 35 | M | | 5K |
| 3 | 136 | RAGSDALE JERRY | 19:12.81 | 6:12 | 47 | M | MONETT | 5K |
| 4 | 174 | ASSENMACHER DOUG | 19:39.36 | 6:20 | 50 | M | | 5K |
| 5 | 200 | THOMPSON BILL | 19:54.23 | 6:25 | 58 | M | | 5K |
| 6 | 217 | WILKINS TODD | 20:12.09 | 6:31 | 53 | M | | 5K |
| 7 | 148 | STUCK KENNETH | 20:41.36 | 6:40 | 46 | M | STRAFFORD | 5K |
| 8 | 220 | LAUGHLIN ROSIE | 20:44.96 | 6:41 | 50 | F | | 5K |
| 9 | 205 | CASADY DEAN | 21:00.17 | 6:46 | 58 | M | | 5K |
| 10 | 203 | BAXTER MIKE | 22:32.99 | 7:16 | 61 | M | | 5K |
| 11 | 125 | MCKINNIS KAREN | 22:44.49 | 7:20 | 53 | F | | 5K |
| 12 | 25 | ACKLIN RANDY | 23:03.61 | 7:26 | 36 | M | MARSHFIELD | 5K |
| 13 | 32 | BOYER RON | 23:10.29 | 7:28 | 68 | M | | 5K |
| 14 | 173 | CHEFFINS TOM | 23:25.74 | 7:33 | 61 | M | | 5K |
| 15 | 224 | LAWS BILL | 23:27.11 | 7:34 | 45 | M | | 5K |
| 16 | 151 | SWANSON BOB | 23:29.15 | 7:35 | 42 | M | | 5K |
| 17 | 29 | ALEMAN STEVE | 24:15.05 | 7:49 | 61 | M | | 5K |
| 18 | 37 | CARROLL KATHY | 24:45.00 | 7:59 | 55 | F | SPRINGFIELD | 5K |
| 19 | 135 | RAFFERTY RONALD | 25:14.04 | 8:08 | 54 | M | | 5K |
| 20 | 126 | MCSPADDEN JOHN | 25:35.48 | 8:15 | 69 | M | | 5K |
| 21 | 33 | BROOKS JIMMY | 25:59.89 | 8:23 | 55 | M | SPRINGFIELD | 5K |
| 22 | 168 | LOLLIS JOANNE | 26:31.76 | 8:33 | 53 | F | | 5K |
| 23 | 167 | HALE MITCH | 26:37.82 | 8:35 | 56 | M | | 5K |
| 24 | 88 | HANCOCK DONNA | 27:13.79 | 8:47 | 47 | F | SPRINGFIELD | 5K |
| 25 | 107 | KIESLING EMMA | 27:19.16 | 8:49 | 24 | F | BOLIVAR | 5K |
| 26 | 223 | HUTCHINSON CARL | 27:37.55 | 8:55 | 50 | M | | 5K |
| 27 | 41 | CHEEK NICOLE | 27:39.73 | 8:55 | 24 | F | BOLIVAR | 5K |
| 28 | 202 | PYCK GEORGE | 27:46.18 | 8:57 | 62 | M | | 5K |
| 29 | 170 | DEWAR BOB | 27:57.93 | 9:01 | 70 | M | | 5K |
| 30 | 219 | SIMON DARYL | 29:08.53 | 9:24 | 67 | M | | 5K |
| 31 | 206 | PRIGEL DAVE | 30:25.57 | 9:49 | 60 | M | | 5K |
| 32 | 96 | HOLT REBEKAH | 30:56.71 | 9:59 | 26 | F | SPRINGFIELD | 5K |
| 33 | 145 | SNEED TOM | 30:57.38 | 9:59 | 52 | M | BOLIVAR | 5K |
| 34 | 66 | ELIASON DEBBIE | 30:58.00 | 9:59 | 57 | F | | 5K |
| 35 | 53 | CUBEL LORI | 32:19.15 | 10:25 | 43 | F | AURORA | 5K |
| 36 | 143 | SHERMAN DANA | 32:27.10 | 10:28 | 37 | F | MARIONVILLE | 5K |
| 37 | 54 | CUMLEY BECKY | 33:18.84 | 10:45 | 48 | F | SPRINGFIELD | 5K |
| 38 | 152 | TEEL AMANDA | 33:46.86 | 10:54 | 37 | F | OZARK | 5K |
| 39 | 48 | COLLEGE LAURA | 34:10.20 | 11:01 | 39 | F | MT VERNON | 5K |
| 40 | 49 | COLLEGE SOPHIA | 34:32.16 | 11:08 | 12 | F | MT VERNON | 5K |
| 41 | 120 | MCBRIDE NANCY | 34:32.40 | 11:08 | 57 | F | NIXA | 5K |
| 42 | 70 | GOUGH JAMES | 34:40.32 | 11:11 | 33 | M | SPRINDFIELD | 5K |
| 43 | 215 | COUCH JAMES | 34:40.61 | 11:11 | 32 | M | | 5K |
| 44 | 103 | KASINGER LINDSEY | 35:15.75 | 11:22 | 31 | F | BILLINGS | 5K |
| 45 | 67 | ELLERMAN BRIAN | 35:17.56 | 11:23 | 38 | M | SPRINGFIELD | 5K |
| 46 | 142 | SHERMAN GEOFFREY | 36:11.05 | 11:40 | 43 | M | MARIONVILLE | 5K |
| 47 | 30 | BLIVEN CATHERINE | 36:55.97 | 11:55 | 55 | F | SPRINGFIELD | 5K |
| 48 | 105 | KELLEN ALESHIA | 36:56.17 | 11:55 | 29 | F | SPRINGFIELD | 5K |
| 49 | 169 | SULLIVAN MALISSA | 36:58.86 | 11:55 | 42 | F | | 5K |
| 50 | 121 | MCCOY CATHY | 37:10.19 | 11:59 | 55 | F | SPRINGFIELD | 5K |
| 51 | 51 | COSTELLO BILL | 38:21.51 | 12:22 | 63 | M | | 5K |
| 52 | 31 | BOHANNON NICKI | 40:04.84 | 12:55 | 36 | F | | 5K |
| 53 | 85 | GRANT PENNY | 40:24.11 | 13:02 | 49 | F | MORRISVILLE | 5K |
| 54 | 52 | CRIBBS VICKI | 40:24.85 | 13:02 | 64 | F | SPRINGFIELD | 5K |
| 55 | 112 | KING TAMMY | 40:35.04 | 13:05 | 47 | F | EVERTON | 5K |
| 56 | 115 | KORTE MEGAN | 41:15.87 | 13:18 | 20 | F | SPRINGFIELD | 5K |
| 57 | 130 | MILIONI EMILY | 41:25.91 | 13:22 | 27 | F | SPRINGFIELD | 5K |
| 58 | 139 | RIECKHOFF CINDY | 41:48.62 | 13:29 | 47 | F | WINDSOR | 5K |
| 59 | 153 | TERRAL SARAH | 42:08.12 | 13:35 | 35 | F | 65802 | 5K |
| 60 | 154 | TERRAL MIKE | 42:08.44 | 13:35 | 34 | M | 65802 | 5K |
| 61 | 114 | KLOSTER DEBRA | 42:18.82 | 13:39 | 57 | F | SPRINGFIELD | 5K |
| 62 | 214 | CALLAHAN KIM | 42:19.80 | 13:39 | 37 | F | | 5K |
| 63 | 113 | KING HUNTER | 42:30.66 | 13:43 | 20 | F | EVERTON | 5K |
| 64 | 119 | MANNING ROBERT | 42:42.11 | 13:46 | 51 | M | MARSHFIELD | 5K |
| 65 | 124 | MCELROY NICHOLAS | 43:00.59 | 13:52 | 10 | M | | 5K |
| 66 | 117 | KRUSE JORDAN | 43:04.80 | 13:54 | 21 | M | SPRINGFIELD | 5K |
| 67 | 127 | MEIER AMELIA | 43:31.61 | 14:02 | 30 | F | OZARK | 5K |
| 68 | 123 | MCELROY TINA | 43:56.04 | 14:10 | 39 | F | | 5K |
| 69 | 77 | GOUGH REBEKAH | 44:01.14 | 14:12 | 32 | F | SPRINGFIELD | 5K |
| 70 | 58 | DANIEL PAULA | 44:25.12 | 14:20 | 52 | F | SPRINGFIELD | 5K |
| 71 | 91 | HENSON LESA | 44:57.45 | 14:30 | 51 | F | | 5K |
| 72 | 69 | FLOOD TRACY | 45:18.40 | 14:37 | 53 | F | | 5K |
| 73 | 100 | JONES MICHELLE | 45:21.44 | 14:38 | 37 | F | MANSFIELD | 5K |
| 74 | 171 | BRANDON VANESSA | 45:27.39 | 14:40 | 49 | F | | 5K |
| 75 | 102 | JONES MCKENNA | 45:32.57 | 14:41 | 16 | F | MANSFIELD | 5K |
| 76 | 172 | BRANDON LONNIE | 45:34.11 | 14:42 | 58 | M | | 5K |
| 77 | 140 | ROBERTS MOLLI | 45:34.40 | 14:42 | 15 | F | MANSFIELD | 5K |
| 78 | 118 | MANCZUK MICHELLE | 46:02.06 | 14:51 | 48 | F | SPRINGFIELD | 5K |
| 79 | 210 | REAVIS GUNNER | 46:13.64 | 14:55 | 3 | M | | 5K |
| 80 | 201 | REAVIS LANEY | 46:13.81 | 14:55 | 22 | F | | 5K |
| 81 | 164 | WILLIS NATALIE | 46:30.00 | 15:00 | 12 | F | REPUBLIC | 5K |
| 82 | 204 | BAXTER LEA | 46:53.28 | 15:07 | 55 | F | | 5K |
| 83 | 208 | SCOBEE LOIS | 47:05.32 | 15:11 | 63 | F | | 5K |
| 84 | 207 | PATRICK GWEN | 47:05.54 | 15:11 | 56 | F | | 5K |
| 85 | 211 | TORP MARISA | 47:14.20 | 15:14 | 31 | F | | 5K |
| 86 | 147 | STOCKWELL DONNA | 48:33.25 | 15:40 | 56 | F | | 5K |
| 87 | 165 | WILLIS KAITLYN | 48:36.15 | 15:41 | 9 | F | REPUBLIC | 5K |
| 88 | 163 | WILLIS WILLIAM | 48:40.74 | 15:42 | 35 | M | REPUBLIC | 5K |
| 89 | 162 | WILLIS JENNIFER | 48:41.58 | 15:42 | 33 | F | REPUBLIC | 5K |
| 90 | 209 | REAVIS TANNER | 50:51.28 | 16:24 | 7 | M | | 5K |
| 91 | 28 | ALEMAN JILL | 50:52.11 | 16:25 | 51 | F | | 5K |
| 92 | 150 | SWAFFORD BRYAN | 51:29.78 | 16:36 | 15 | M | | 5K |
| 93 | 149 | WOOD JOE | 51:30.93 | 16:37 | 36 | M | | 5K |
| 94 | 159 | VANBEBBER DAVID | 52:46.88 | 17:01 | 55 | M | BUFFALO | 5K |
| 95 | 65 | EDMONDS ANGELA | 52:52.78 | 17:03 | 31 | F | | 5K |
| 96 | 99 | HUDEC EVIE | 52:53.45 | 17:04 | 10 | F | BUFFALO | 5K |
| 97 | 87 | GRAY ESTHER | 53:19.27 | 17:12 | 8 | F | BUFFALO | 5K |
| 98 | 90 | HASH DEBBIE | 54:43.61 | 17:39 | 58 | F | | 5K |
| 99 | 138 | RICHARDSON FELISHA | 55:02.57 | 17:45 | 29 | F | | 5K |
| 100 | 166 | WILMETH BRIAN | 55:02.95 | 17:45 | 42 | M | SPRINGFIELD | 5K |
| 101 | 221 | SWAFFORD MICHELLE | 55:10.16 | 17:48 | 38 | F | | 5K |
| 102 | 161 | WHITE SHAWNA | 55:17.79 | 17:50 | 35 | F | | 5K |
| 103 | 155 | TOWNLIAN JESSICA | 55:18.13 | 17:50 | 31 | F | | 5K |
| 104 | 141 | RUHLANDER NICOLE | 55:53.49 | 18:02 | 30 | F | SPRINGFIELD | 5K |
| 105 | 40 | CARVEL GEN | 1:00:55.55 | 19:39 | 51 | F | OZARK | 5K |
| 106 | 134 | PARSICK DEANA | 1:00:55.84 | 19:39 | 56 | F | SPRINGFIELD | 5K |
| 107 | 160 | VORBECK JESSI | 1:03:43.29 | 20:33 | 21 | F | SPRINGFIELD | 5K |
| 108 | 146 | STARNES KAYLA | 1:03:43.95 | 20:33 | 22 | F | SPRINGFIELD | 5K |
| 109 | 60 | DENTON JILL | 1:03:44.82 | 20:34 | 59 | F | SPRINGFIELD | 5K |
| 110 | 95 | HOLLISTER-GRAHAM DYLAN | 1:03:46.10 | 20:34 | 23 | M | SPRINGFIELD | 5K |
| 111 | 132 | MOSER MILES | 1:04:15.04 | 20:44 | 21 | M | SPRINGFIELD | 5K |
| 112 | 35 | BUTLER JULIA | 1:04:16.11 | 20:44 | 20 | F | SPRINGFIELD | 5K |
| 113 | 133 | ONEAL PAM | 1:04:23.23 | 20:46 | 58 | F | BILLINGS | 5K |
| 114 | 225 | BUTLER KRISTIN | 1:04:25.48 | 20:47 | 54 | F | | 5K |
| 115 | 78 | GRAHAM DONNA | 1:04:47.50 | 20:54 | 49 | F | SPRINGFIELD | 5K |
| 116 | 42 | CHUM ALEXIS | 1:06:39.40 | 21:30 | 30 | F | | 5K |
| 117 | 213 | COGAN SHELLEY | 1:11:00.94 | 22:54 | 43 | F | | 5K |
| 118 | 212 | FARRELL AMY | 1:11:01.09 | 22:55 | 43 | F | | 5K |
| 1 | 1500 | WILCOX TRINA | 45:28.55 | 7:20 | 39 | F | | 10K |
| 2 | 1486 | WELLS DAN | 47:42.81 | 7:42 | 51 | M | SPRINGFIELD | 10K |
| 3 | 1556 | HEPLER DOUG | 50:34.17 | 8:09 | 41 | M | | 10K |
| 4 | 1475 | TYGART JON | 51:35.29 | 8:19 | 31 | M | | 10K |
| 5 | 1476 | DEAN ACLAN | 51:38.30 | 8:20 | 33 | M | | 10K |
| 6 | 1460 | KASINGER BRENT | 52:55.85 | 8:32 | 32 | M | BILLINGS | 10K |
| 7 | 1406 | BEUSHAUSEN MALINDA | 53:00.46 | 8:33 | 44 | F | LEBANON | 10K |
| 8 | 1352 | STEPHENS MARC | 53:30.89 | 8:38 | 39 | M | | 10K |
| 9 | 1353 | KIM TEEL | 53:35.90 | 8:39 | 51 | F | | 10K |
| 10 | 1503 | BEUSHAUSEN LENDALL | 53:44.17 | 8:40 | 46 | M | | 10K |
| 11 | 1599 | PILGRIM MARK | 54:58.51 | 8:52 | 37 | M | | 10K |
| 12 | 1466 | MILAM JUSTIN | 55:07.47 | 8:53 | 33 | M | SPRINGFIELD | 10K |
| 13 | 1504 | ALEXANDER JOEL | 58:09.85 | 9:23 | 54 | M | | 10K |
| 14 | 1470 | RENNINGTON ROD | 59:59.26 | 9:40 | 61 | M | | 10K |
| 15 | 1464 | MCCLOUD JOE | 1:02:00.47 | 10:00 | 26 | M | BRANSON | 10K |
| 16 | 1463 | MCCLOUD HANNAH | 1:02:00.53 | 10:00 | 26 | F | BRANSON | 10K |
| 17 | 1498 | WELLS GAYLA | 1:02:26.71 | 10:04 | 44 | F | SPRINGFIELD | 10K |
| 18 | 1454 | DAVIS JERI | 1:04:03.68 | 10:20 | 48 | F | | 10K |
| 19 | 1590 | SIRCHER CHEYENNE | 1:04:47.71 | 10:27 | 22 | F | | 10K |
| 20 | 1509 | HOLIFIELD KURT | 1:05:08.68 | 10:30 | 38 | M | | 10K |
| 21 | 1508 | EZELL JASON | 1:05:14.94 | 10:31 | 44 | M | | 10K |
| 22 | 1548 | WOOD ROD | 1:06:47.13 | 10:46 | 26 | M | | 10K |
| 23 | 1473 | STEPHENS NICOLE | 1:08:03.86 | 10:59 | 32 | F | | 10K |
| 24 | 1471 | SMITH JENNA | 1:08:05.89 | 10:59 | 31 | F | | 10K |
| 25 | 1462 | KUSE JAN | 1:08:11.31 | 10:59 | 58 | F | | 10K |
| 26 | 1400 | ALLGOOD CHRISTA | 1:18:31.31 | 12:40 | 42 | F | SPRINGFIELD | 10K |
| 27 | 1452 | BURGE VERNA | 1:18:31.49 | 12:40 | 54 | F | SPRINGFIELD | 10K |
| 28 | 1459 | HALL CAROL | 1:25:48.16 | 13:50 | 46 | F | LEBANON | 10K |
| 29 | 1472 | ST CIN ED | 1:28:58.92 | 14:21 | 72 | M | PLEASANT HOPE | 10K |
| 30 | 1416 | BRAMER PAT | 1:31:14.32 | 14:43 | 66 | M | MARSHFIELD | 10K |
| 31 | 1461 | KRUSE SARA | 1:31:14.57 | 14:43 | 42 | F | SPRINGFIELD | 10K |
| 32 | 1552 | WEIDELMAN SHARON | 1:32:03.92 | 14:51 | 65 | F | | 10K |
(Event 131,76)