In conjuction with the Soggy Bottom Endurance Ultra will be holding a Soggy Bottom Evening 4 Miler!! The 4 Miler will be Saturday, February 27, 2016 at 4PM. *We could possibly have a slight delay at the start of each race if 100 Milers are coming through. It shouldn't take more than a couple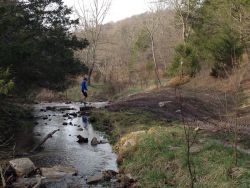 minutes, so we'll cheer them on as they approach!
Event Organizer(s):

Results
Got Feedback? Take a moment to complete our Survey and let us know!Take the Survey
And then there were 3! Congratulations to the 3 Finishers of the Soggy Bottom 100 Miler, Jeff Jones of Nixa, MO, Rebecca Johannes of Pillager, MN and Jeff Stafford of Clarksville, TN. The inaugural Soggy Bottom Weekend consisted of a 100 Miler, 40 Miler, 100 & 40 Miler Relay, evening 4 Miler and Sunday morning 10 Miler, with all events challenging everyone. We want to thank everyone for their participation, hard work and fun spirit to help make this weekend a success.
| | | | | | | | | | | |
| --- | --- | --- | --- | --- | --- | --- | --- | --- | --- | --- |
| Position | Bib # | Last Name | First Name | FINISH TIME | Pace | Age | Gender | Division | City | State |
| | | | | | | | | | | |
| 1 | 672 | PARKER | ALL | 31:57.49 | 7:59 | 17 | M | 4M | | |
| 2 | 628 | MEDLEY | JAMES | 42:10.46 | 10:32 | 13 | M | 4M | SEYMOUR | MO |
| 3 | 615 | DAME | BRYAN | 42:29.96 | 10:37 | 34 | M | 4M | REPUBLIC | MO |
| 4 | 674 | PHILLIPS | ROD | 44:28.71 | 11:07 | 66 | M | 4M | | |
| 5 | 643 | SOEUNG | RANDY | 44:43.64 | 11:11 | 35 | M | 4M | CAVE SPRINGS | AR |
| 6 | 609 | BEESON | MATTHEW | 45:00.14 | 11:15 | 41 | M | 4M | AURORA | MO |
| 7 | 650 | KYGER | LIZ | 45:01.23 | 11:15 | 56 | F | 4M | OLDFIELD | MO |
| 8 | 637 | PENDEGRAFT | STEPH | 46:16.77 | 11:34 | 41 | F | 4M | GAMALIEL | AR |
| 9 | 606 | CHEFFINS | TOM | 47:25.57 | 11:51 | 61 | M | 4M | OZARK | MO |
| 10 | 640 | RAINS | JESSICA | 49:05.72 | 12:16 | 32 | F | 4M | SPARTA | MO |
| 11 | 635 | ONWILER | PHIL | 49:35.97 | 12:24 | 30 | M | 4M | ASHLAND | NB |
| 12 | 641 | RAINS | DANNY JOE | 50:31.04 | 12:38 | 32 | M | 4M | SPARTA | MO |
| 13 | 671 | HARDISON | MADELINE | 51:01.34 | 12:45 | 38 | F | 4M | | |
| 14 | 657 | AKIN | TERRY | 52:14.01 | 13:04 | 40 | M | 4M | | |
| 15 | 618 | ERNSTING | CRAIG | 52:21.11 | 13:05 | 48 | M | 4M | BRANSON | MO |
| 16 | 612 | COX | ERICA | 52:59.41 | 13:15 | 45 | F | 4M | HALFWAY | MO |
| 17 | 633 | MURRAY | WENDY | 54:49.82 | 13:42 | 52 | F | 4M | OZARK | MO |
| 18 | 662 | SCHNIEDER | GATLIN | 54:52.04 | 13:43 | 7 | M | 4M | | |
| 19 | 636 | ONWILER | JANESSA | 56:12.21 | 14:03 | 21 | F | 4M | LINCOLN | NB |
| 20 | 642 | ROGERS | ROBERT | 56:17.04 | 14:04 | 54 | M | 4M | WEST PLAINS | MO |
| 21 | 663 | LAFFERTY | JACOB | 58:01.96 | 14:30 | 10 | M | 4M | | |
| 22 | 617 | DAUGHERTY | TAYLOR | 58:02.19 | 14:30 | 24 | M | 4M | CHADWICK | MO |
| 23 | 666 | JOYNER | GINGER | 58:04.57 | 14:31 | 44 | F | 4M | ROLLA | MO |
| 24 | 659 | EAKINS | TONYA | 58:16.80 | 14:34 | 14 | F | 4M | | |
| 25 | 651 | VANHOUDEN | JARON | 59:24.59 | 14:51 | 13 | M | 4M | OLDFIELD | MO |
| 26 | 629 | MINTON | ED | 59:24.76 | 14:51 | 35 | M | 4M | NIXA | MO |
| 27 | 646 | VAN | WINKLE | 59:37.09 | 14:54 | 54 | F | 4M | OZARK | MO |
| 28 | 668 | BAKER | RACHEL | 1:00:01.52 | 15:00 | 37 | F | 4M | SPRINGFIELD | MO |
| 29 | 667 | BAKER | GREG | 1:00:02.45 | 15:00 | 41 | M | 4M | SPRINGFIELD | MO |
| 30 | 665 | JOYNER | PAUL | 1:00:26.71 | 15:06 | 41 | M | 4M | ROLLA | MO |
| 31 | 610 | CATT | RC | 1:00:36.20 | 15:09 | 64 | M | 4M | SPRINGFIELD | MO |
| 32 | 623 | HOOVENS | NIKKI | 1:00:40.99 | 15:10 | 41 | F | 4M | SPRINGFIELD | MO |
| 33 | 669 | KERNS | SHIRLEY | 1:01:21.61 | 15:20 | 42 | F | 4M | | |
| 34 | 626 | JUNCK | DANNA | 1:02:17.81 | 15:34 | 45 | F | 4M | BRANSON | MO |
| 35 | 630 | MINTON | DAVID | 1:03:00.24 | 15:45 | 33 | M | 4M | MARSHFIELD | MO |
| 36 | 620 | GORDON | KIMBERLY | 1:03:25.09 | 15:51 | 35 | F | 4M | FORT LEONARD WOOD | MO |
| 37 | 648 | WITT | JULIA | 1:04:33.52 | 16:08 | 51 | F | 4M | ASH GROVE | MO |
| 38 | 639 | RAETZ | ERICA | 1:04:55.97 | 16:14 | 26 | F | 4M | SPRINGFIELD | MO |
| 39 | 625 | JUNCK | KYLE | 1:05:44.11 | 16:26 | 47 | M | 4M | BRANSON | MO |
| 40 | 673 | JONES | CARISSA | 1:07:08.98 | 16:47 | 40 | F | 4M | | |
| 41 | 649 | YEN | CONNIE | 1:08:12.73 | 17:03 | 53 | F | 4M | BATTLEFIELD | MO |
| 42 | 655 | SWAYER | SARA | 1:09:11.11 | 17:18 | 50 | F | 4M | AVA | MO |
| 43 | 621 | GUNLOCK | TYLER | 1:10:11.75 | 17:33 | 38 | M | 4M | ASH GROVE | MO |
| 44 | 647 | WANNENMACHER | LINDSEY | 1:10:12.58 | 17:33 | 33 | F | 4M | SPRINGFIELD | MO |
| 45 | 638 | PENNINGTON | ROD | 1:10:55.36 | 17:44 | 61 | M | 4M | ROGERSVILLE | MO |
| 46 | 631 | MOLINA | ANNE | 1:11:38.55 | 17:55 | 47 | F | 4M | JOPLIN | MO |
| 47 | 660 | SCHNIEDER | MAVERICK | 1:12:52.18 | 18:13 | 10 | M | 4M | | |
| 48 | 627 | MCCOY | TRACIE | 1:13:16.60 | 18:19 | 46 | F | 4M | SPRINGFIELD | MO |
| 49 | 614 | CUMLEY | BECKY | 1:13:33.06 | 18:23 | 49 | F | 4M | SPRINGFIELD | MO |
| 50 | 608 | BEESON | BUD | 1:14:31.91 | 18:38 | 76 | M | 4M | COLE CAMP | MO |
| 51 | 616 | DAME | JACKIE | 1:19:48.00 | 19:57 | 34 | F | 4M | REPUBLIC | MO |
| 52 | 632 | MURPHY | CHRISTOPHER | 1:20:29.68 | 20:07 | 45 | M | 4M | SPRINGFIELD | MO |
| 53 | 624 | HUDSON | BUMBLEBEEZ84 | 1:20:30.87 | 20:08 | 31 | F | 4M | SPRINGFIELD | MO |
| 54 | 613 | CROWLEY | SHAWN | 1:20:56.05 | 20:14 | 55 | F | 4M | BILLINGS | MO |
| 55 | 670 | CLINE | LYNN | 1:22:50.53 | 20:42 | 65 | M | 4M | | |
| 56 | 664 | MORGAN | CHASE | 1:24:17.63 | 21:04 | 14 | M | 4M | | |
| 57 | 658 | SCHNIEDER | SIERRA | 1:24:25.26 | 21:06 | 13 | F | 4M | | |
| 58 | 644 | ST | CIN | 1:27:54.18 | 21:59 | 72 | M | 4M | PLEASANT HOPE | MO |
| 59 | 661 | DRAKE | KAMERON | 1:31:23.03 | 22:51 | 9 | M | 4M | | |
(Event 143,88)