Join us Saturday, October 10, 2015 at 7pm for the Color Me Grad Glo Run 5K Run/Walk benefiting Fair Grove High School Project Graduation!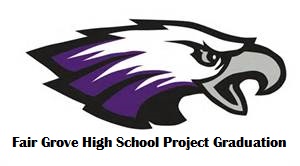 Registration Fee: $20 if registered by October 9th. Race Day: $25
Race Day Registration & Packet Pickup: Will be held from 6pm to 6:45pm
Awards: Overall & Age Division Awards
Shirts: Pre-Register by September 25th to be guaranteed a shirt in your size.
This is a night race so headlamps, reflective apparel/gear are highly recommended.
**SMALL GLOW ACCESSORIES WILL BE AVAILABLE FOR PURCHASE!
Event Organizer(s):

Results
debug: CSV
| | | | | | | | | |
| --- | --- | --- | --- | --- | --- | --- | --- | --- |
| Position | Bib # | | Name | Finish | Pace | Age | City | Division |
| | | | | | | | | |
| 1 | 179 | STEPHEN | SCALETTY | 20:10.43 | 6:30 | 13 | FAIR GROVE | 5K |
| 2 | 72 | BRENT | CHURCH | 21:04.96 | 6:48 | 15 | FAIR GROVE | 5K |
| 3 | 173 | ANDREW | LOWERY | 21:17.51 | 6:52 | 26 | LEBANON | 5K |
| 4 | 126 | JACOB | MORELAN | 21:20.10 | 6:53 | 13 | FAIR GROVE | 5K |
| 5 | 85 | JASON | GABATHULER | 21:23.40 | 6:54 | 35 | SPRINGFIELD | 5K |
| 6 | 183 | MARK | KELLOGG | 21:45.86 | 7:01 | 30 | PLEASANT HOPE | 5K |
| 7 | 104 | MASON | KESTERSON | 22:44.72 | 7:20 | 17 | FAIR GROVE | 5K |
| 8 | 114 | BILLY | LOWERY | 24:22.30 | 7:52 | 19 | FAIR GROVE | 5K |
| 9 | 187 | TERRY | AKIN | 24:33.59 | 7:55 | 39 | BATTLEFIELD | 5K |
| 10 | 176 | BRANDON | HART | 25:31.25 | 8:14 | 17 | FAIR GROVE | 5K |
| 11 | 185 | ALEX | INCE | 25:32.50 | 8:14 | 13 | FAIR GROVE | 5K |
| 12 | 193 | HALE | | 25:34.67 | 8:15 | 13 | FAIR GROVE | 5K |
| 13 | 59 | JASON | BETTIS | 25:41.06 | 8:17 | 41 | FAIR GROVE | 5K |
| 14 | 96 | NATHAN | HILL | 25:42.04 | 8:17 | 33 | SPRINGFIELD | 5K |
| 15 | 109 | BEN | KNAUP | 26:36.53 | 8:35 | 35 | SPRINGFIELD | 5K |
| 16 | 130 | JOE | MYERS | 26:56.77 | 8:41 | 47 | FAIR GROVE | 5K |
| 17 | 116 | TANNER | LUMLEY | 27:06.10 | 8:45 | 12 | FAIR GROVE | 5K |
| 18 | 140 | SAM | RUTHERFORD | 27:11.53 | 8:46 | 13 | FAIR GROVE | 5K |
| 19 | 195 | JOE | CAUDLE | 27:12.95 | 8:46 | 17 | | 5K |
| 20 | 154 | BAILEY | WEAVER | 27:14.26 | 8:47 | 17 | FAIR GROVE | 5K |
| 21 | 146 | HALEY | STALLINGS | 27:27.36 | 8:51 | 17 | FAIR GROVE | 5K |
| 22 | 129 | ABBY | MUTRUX | 27:48.68 | 8:58 | 35 | SPRINGFIELD | 5K |
| 23 | 161 | HALEY | WINGO | 28:46.94 | 9:17 | 12 | FAIR GROVE | 5K |
| 24 | 174 | MOLLY | LOWERY | 28:48.95 | 9:17 | 26 | LEBANON | 5K |
| 25 | 125 | OLAN | MORELAN | 29:27.77 | 9:30 | 38 | FAIR GROVE | 5K |
| 26 | 127 | ELIAS | MORELAN | 29:28.05 | 9:30 | 16 | FAIR GROVE | 5K |
| 27 | 196 | DRAKE | JENKINS | 30:08.41 | 9:43 | 18 | SPRINGFIELD | 5K |
| 28 | 119 | BETH | MAULDIN | 30:22.40 | 9:48 | 53 | FAIR GROVE | 5K |
| 29 | 118 | RANDY | MAULDIN | 30:23.98 | 9:48 | 56 | FAIR GROVE | 5K |
| 30 | 189 | TIM | ROBIE | 30:26.34 | 9:49 | 66 | BUFFALO | 5K |
| 31 | 182 | BETHANY | KELLOGG | 31:52.32 | 10:17 | 29 | PLEASANT HOPE | 5K |
| 32 | 181 | LAURA | ADAMS | 32:28.44 | 10:28 | 54 | FAIR GROVE | 5K |
| 33 | 115 | HEATHER | LUMLEY | 33:35.80 | 10:50 | 45 | FAIR GROVE | 5K |
| 34 | 132 | ELLA | MYERS | 33:56.15 | 10:57 | 8 | FAIR GROVE | 5K |
| 35 | 86 | VICTORIA | GLENN | 34:14.05 | 11:03 | 46 | FAIR GROVE | 5K |
| 36 | 101 | LESLIE | JOHNSTON | 34:39.67 | 11:11 | 38 | BUFFALO | 5K |
| 37 | 192 | PARKER | BORCKERS | 34:42.84 | 11:12 | 18 | FAIR GROVE | 5K |
| 38 | 102 | CALEB | JOHNSTON | 34:46.77 | 11:13 | 18 | BUFFALO | 5K |
| 39 | 151 | SHEILA | VANNOSTRAND | 34:50.81 | 11:14 | 28 | FAIR GROVE | 5K |
| 40 | 58 | LEXIE | BETTIS | 35:13.44 | 11:22 | 36 | FAIR GROVE | 5K |
| 41 | 123 | KELLIE | MILZHEM | 35:24.96 | 11:25 | 42 | FAIR GROVE | 5K |
| 42 | 113 | JASON | LEIDY | 36:09.27 | 11:40 | 15 | FAIR GROVE | 5K |
| 43 | 160 | GRACIN | WOOD | 36:44.30 | 11:51 | 12 | FAIR GROVE | 5K |
| 44 | 52 | JENNIFER | ANGLEN | 37:26.62 | 12:05 | 44 | FAIR GROVE | 5K |
| 45 | 164 | CHRIS | BREWER | 37:33.77 | 12:07 | 43 | FAIR GROVE | 5K |
| 46 | 163 | SHANE | BREWER | 37:34.42 | 12:07 | 8 | FAIR GROVE | 5K |
| 47 | 166 | BAILEY | RICHARDSON | 37:51.67 | 12:13 | 12 | FAIR GROVE | 5K |
| 48 | 191 | KEN | PEAK | 37:57.86 | 12:15 | 12 | | 5K |
| 49 | 71 | JORDAN | CHANDLER | 38:02.65 | 12:16 | 17 | FAIR GROVE | 5K |
| 50 | 158 | ERIC | WINGO | 38:50.56 | 12:32 | 38 | FAIR GROVE | 5K |
| 51 | 77 | LINDA | CREWS | 39:08.27 | 12:37 | 52 | FAIR GROVE | 5K |
| 52 | 53 | COBY | APPLETON | 39:10.35 | 12:38 | 17 | FAIR GROVE | 5K |
| 53 | 194 | CHAD | | 40:15.47 | 12:59 | 40 | FAIR GROVE | 5K |
| 54 | 170 | LAUREN | PIERCE | 40:52.62 | 13:11 | 17 | FAIR GROVE | 5K |
| 55 | 198 | BILL | MOONEYHAM | 41:25.43 | 13:22 | 55 | BROOKLINE | 5K |
| 56 | 200 | HAYDEN | WINGO | 41:25.82 | 13:22 | 16 | | 5K |
| 57 | 100 | KAITLYN | JETER | 41:42.39 | 13:27 | 18 | FAIR GROVE | 5K |
| 58 | 152 | SHELBY | WALLACE | 41:58.45 | 13:32 | 17 | FAIR GROVE | 5K |
| 59 | 79 | NANCY | DOWNING | 42:35.70 | 13:44 | 60 | FAIR GROVE | 5K |
| 60 | 131 | LYNETTE | MYERS | 43:14.48 | 13:57 | 40 | FAIR GROVE | 5K |
| 61 | 80 | MIKE | DOWNING | 45:10.61 | 14:34 | 64 | FAIR GROVE | 5K |
| 62 | 141 | MERLEE | SANDRIDGE | 45:11.36 | 14:35 | 67 | FAIR GROVE | 5K |
| 63 | 64 | CRYSTAL | BROKERING | 45:55.46 | 14:49 | 35 | FAIR GROVE | 5K |
| 64 | 82 | SARAH | FELIN | 45:57.02 | 14:49 | 36 | SPRINGFIELD | 5K |
| 65 | 83 | BRENNAN | FELIN | 46:08.14 | 14:53 | 12 | SPRINGFIELD | 5K |
| 66 | 75 | ALISHA | COOPER | 46:10.52 | 14:54 | 22 | HALFWAY | 5K |
| 67 | 117 | MARIAH | | 46:11.39 | 14:54 | 22 | SPRINGFIELD | 5K |
| 68 | 197 | PAULA | ADAMS | 46:31.10 | 15:00 | 43 | | 5K |
| 69 | 73 | DANA | COLVARD | 46:42.71 | 15:04 | 45 | FAIR GROVE | 5K |
| 70 | 88 | MELISSA | GREEN | 47:32.82 | 15:20 | 34 | FAIR GROVE | 5K |
| 71 | 56 | SUZY | BAMPOE | 47:33.80 | 15:20 | 36 | SPRINGFIELD | 5K |
| 72 | 63 | KATY | BRANDES | 47:34.83 | 15:21 | 48 | FAIR GROVE | 5K |
| 73 | 150 | MARVIN | VANNOSTRAND | 48:53.13 | 15:46 | 35 | FAIR GROVE | 5K |
| 74 | 177 | MARK | MCKINNIS | 49:22.13 | 15:55 | 46 | FAIR GROVE | 5K |
| 75 | 186 | TERRI | HOFFMAN | 49:24.67 | 15:56 | 55 | SPRINGFIELD | 5K |
| 76 | 172 | MCKINNIS | ANN | 49:25.18 | 15:56 | 17 | FAIR GROVE | 5K |
| 77 | 69 | STANLEY | BYRD | 50:15.59 | 16:13 | 66 | FAIR GROVE | 5K |
| 78 | 68 | NICOLE | BRYAN | 51:21.32 | 16:34 | 28 | BUFFALO | 5K |
| 79 | 67 | SHANNON | BRYAN | 51:21.33 | 16:34 | 50 | URBANA | 5K |
| 80 | 139 | MADDIE | ROBINSON | 51:58.69 | 16:46 | 18 | FAIR GROVE | 5K |
| 81 | 128 | NORA | MORLAND | 51:58.71 | 16:46 | 56 | MARSHFIELD | 5K |
| 82 | 136 | KELLI | OPLOTNIK | 52:20.77 | 16:53 | 17 | FAIR GROVE | 5K |
| 83 | 153 | SHEA | WALLACE | 52:20.98 | 16:53 | 17 | FAIR GROVE | 5K |
| 84 | 149 | JENNY | TURNER | 52:20.98 | 16:53 | 42 | BUFFALO | 5K |
| 85 | 54 | KENNEDY | ARGENTA | 52:26.59 | 16:55 | 17 | FAIR GROVE | 5K |
| 86 | 188 | SONNE | HOPPER | 52:42.92 | 17:00 | 81 | FAIR GROVE | 5K |
| 87 | 81 | KIM | FARRAR | 53:14.90 | 17:10 | 46 | BUFFALO | 5K |
| 88 | 74 | WINDY | COOPER | 53:23.85 | 17:13 | 44 | HALFWAY | 5K |
| 89 | 76 | ASHLEY | COOPER | 53:25.40 | 17:14 | 20 | HALFWAY | 5K |
| 90 | 175 | RICKY | LOWERY | 55:01.39 | 17:45 | 50 | FAIR GROVE | 5K |
| 91 | 103 | SANDY | KESTERSON | 55:21.07 | 17:51 | 53 | FAIR GROVE | 5K |
| 92 | 144 | BRAD | STACYE | 55:22.56 | 17:52 | 38 | FAIR GROVE | 5K |
| 93 | 157 | COLLEEN | WINGO | 55:57.93 | 18:03 | 39 | FAIR GROVE | 5K |
| 94 | 108 | CHYNA | KIRKPATRICK | 56:16.45 | 18:09 | 17 | FAIR GROVE | 5K |
| 95 | 105 | ROY | KIRKPATRICK | 56:17.48 | 18:09 | 39 | FAIR GROVE | 5K |
| 96 | 106 | LESLIE | KIRKPATRICK | 56:19.55 | 18:10 | 44 | FAIR GROVE | 5K |
| 97 | 84 | SABRINA | FRANCIS | 56:30.54 | 18:14 | 30 | FAIR GROVE | 5K |
| 98 | 122 | JESSICA | MCKEEVER | 56:30.69 | 18:14 | 33 | SPRINGFIELD | 5K |
| 99 | 180 | JESSICA | ANDERSON | 56:31.38 | 18:14 | 26 | SPRINGFIELD | 5K |
| 100 | 199 | DEBBIE | CLOPTON | 56:32.74 | 18:14 | 57 | FAIR GROVE | 5K |
| 101 | 190 | LARRY | PEAK | 56:32.91 | 18:14 | 49 | | 5K |
| 102 | 112 | ROBERT | LEIDY | 56:40.33 | 18:17 | 36 | FAIR GROVE | 5K |
| 103 | 165 | SARA | TOWRY | 56:43.91 | 18:18 | 32 | FAIR GROVE | 5K |
| 104 | 167 | VICKI | OWENS | 56:44.22 | 18:18 | 56 | FAIR GROVE | 5K |
| 105 | 142 | MELISSA | SANDRIDGE | 56:46.23 | 18:19 | 44 | FAIR GROVE | 5K |
| 106 | 184 | TRISTIN | CROSS | 57:51.71 | 18:40 | 15 | BUFFALO | 5K |
| 107 | 138 | SUSAN | RICHARDSON | 58:25.94 | 18:51 | 60 | SPRINGFIELD | 5K |
| 108 | 133 | TAMMY | NICHOLS | 58:30.72 | 18:52 | 43 | NIANGUA | 5K |
| 109 | 98 | CHARITY | HOLLAN | 59:07.94 | 19:04 | 40 | FAIR GROVE | 5K |
| 110 | 97 | CHRIS | HOLLAN | 59:16.45 | 19:07 | 35 | FAIR GROVE | 5K |
| 111 | 62 | SHANNON | BOYER | 59:19.97 | 19:08 | 36 | SPRINGFIELD | 5K |
| 112 | 50 | ANESSA | AHNEN | 59:30.89 | 19:12 | 32 | FAIR GROVE | 5K |
| 113 | 51 | MATT | AHNEN | 59:40.56 | 19:15 | 36 | FAIR GROVE | 5K |
| 114 | 178 | SAMANTHA | MAPLES | 59:41.95 | 19:15 | 41 | FAIR GROVE | 5K |
| 115 | 55 | CATRINA | AVERY | 59:43.07 | 19:16 | 35 | FAIR GROVE | 5K |
| 116 | 110 | KAYCE | KNAUP | 59:46.55 | 19:17 | 34 | SPRINGFIELD | 5K |
| 117 | 78 | SARAH | CREWS | 59:47.80 | 19:17 | 44 | STRAFFORD | 5K |
| 118 | 124 | MELINDA | MITCHELL | 59:47.97 | 19:17 | 48 | BOIS D ARC | 5K |
| 119 | 201 | CORTNI | MOORE | 59:54.95 | 19:19 | 19 | FAIR GROVE | 5K |
| 120 | 202 | DEENA | JONES | 59:55.12 | 19:20 | 42 | FAIR GROVE | 5K |
| 121 | 147 | LANA | THOMAS | 1:01:17.59 | 19:46 | 37 | FAIR GROVE | 5K |
| 122 | 95 | TINA | HARTLEY | 1:01:22.08 | 19:48 | 52 | FAIR GROVE | 5K |
| 123 | 148 | MICHAEL | THOMAS | 1:01:33.24 | 19:51 | 44 | FAIR GROVE | 5K |
| 124 | 87 | MARIA | GLENN | 1:05:54.31 | 21:15 | 15 | FAIR GROVE | 5K |
| 125 | 145 | JULIE | STACYE | 1:06:58.83 | 21:36 | 44 | FAIR GROVE | 5K |
| 126 | 99 | KALEE | JACKSON | 1:07:07.65 | 21:39 | 13 | BUFFALO | 5K |
| 127 | 94 | SHARLA | HANNAFORD | 1:07:11.84 | 21:40 | 40 | BUFFALO | 5K |
| 128 | 92 | PAT | HANNAFORD | 1:07:13.22 | 21:41 | 65 | STRAFFORD | 5K |
| 129 | 168 | VICKY | ATKINSON | 1:07:30.25 | 21:46 | 54 | SPRINGFIELD | 5K |
(Event 155,100)