In conjuction with the Soggy Bottom Endurance Ultra will be holding a Soggy Bottom Evening 10 Miler!! The 10 Miler will be Sunday, February 28, 2016 at 8AM. *We could possibly have a slight delay at the start of each race if 100 Milers are coming through. It shouldn't take more than a couple minutes, so we'll cheer them on as they approach the finishline/final lap!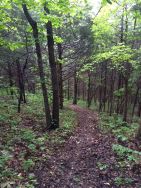 Event Organizer(s):

Results
Got Feedback? Take a moment to complete our Survey and let us know!Take the Survey
And then there were 3! Congratulations to the 3 Finishers of the Soggy Bottom 100 Miler, Jeff Jones of Nixa, MO, Rebecca Johannes of Pillager, MN and Jeff Stafford of Clarksville, TN. The inaugural Soggy Bottom Weekend consisted of a 100 Miler, 40 Miler, 100 & 40 Miler Relay, evening 4 Miler and Sunday morning 10 Miler, with all events challenging everyone. We want to thank everyone for their participation, hard work and fun spirit to help make this weekend a success.
| | | | | | | | | | | |
| --- | --- | --- | --- | --- | --- | --- | --- | --- | --- | --- |
| Position | Bib # | Last Name | First Name | FINISH TIME | Pace | Age | Gender | Division | City | State |
| | | | | | | | | | | |
| 1 | 923 | LOUNSBERY | ANTHONY | 1:30:49.74 | 9:05 | 37 | M | 10M | EDMOND | OK |
| 2 | 906 | BLASBERG | PAIGE | 1:40:31.64 | 10:03 | 20 | F | 10M | ROLLA | MO |
| 3 | 957 | XU | ZHENCHAO | 1:43:47.59 | 10:23 | 25 | M | 10M | ROLLA | MO |
| 4 | 934 | RAHMOELLER | CHRISS | 1:44:16.85 | 10:26 | 23 | M | 10M | SPRINGFIELD | MO |
| 5 | 913 | DAME | BRYAN | 1:52:01.37 | 11:12 | 34 | M | 10M | REPUBLIC | MO |
| 6 | 946 | SMITH | YATES SHAUNA | 1:52:17.88 | 11:14 | 37 | F | 10M | ASH GROVE | MO |
| 7 | 939 | RICKARD | AARON | 1:54:03.65 | 11:24 | 39 | M | 10M | HIGHLANDVILLE | MO |
| 8 | 947 | SOEUNG | RANDY | 1:56:32.78 | 11:39 | 35 | M | 10M | CAVE SPRINGS | AR |
| 9 | 932 | TUCKER | LALI | 1:56:59.87 | 11:42 | 31 | F | 10M | ROGERSVILLE | MO |
| 10 | 908 | CHANDLER | ERIN | 1:57:12.17 | 11:43 | 36 | F | 10M | KISSEE MILLS | MO |
| 11 | 953 | WILLIAMS | JEFF | 1:57:44.33 | 11:46 | 49 | M | 10M | NIXA | MO |
| 12 | 931 | PENDEGRAFT | STEPH | 2:01:45.72 | 12:11 | 41 | F | 10M | GAMALIEL | AR |
| 13 | 956 | ESPINOZA-LEVY | ARIEL | 2:05:27.61 | 12:33 | 26 | F | 10M | FORT LEONARD WOOD | MO |
| 14 | 926 | MCKINNEY | JENNA | 2:05:35.03 | 12:34 | 28 | F | 10M | WAYNESVILLE | MO |
| 15 | 937 | RAINS | JESSICA | 2:06:02.17 | 12:36 | 32 | F | 10M | SPARTA | MO |
| 16 | 901 | ALBERTSON | KANE | 2:07:50.28 | 12:47 | 29 | M | 10M | OZARK | MO |
| 17 | 936 | RAINS | DANNY JOE | 2:10:20.84 | 13:02 | 32 | M | 10M | SPARTA | MO |
| 18 | 909 | CHEFFINS | TOM | 2:10:48.49 | 13:05 | 61 | M | 10M | OZARK | MO |
| 19 | 949 | TURNER | LAURA | 2:11:33.79 | 13:09 | 34 | F | 10M | ST. LOUIS | MO |
| 20 | 910 | CULLER | RYAN | 2:13:53.16 | 13:23 | 42 | M | 10M | KISSEE MILLS | MO |
| 21 | 919 | GANN | LARRY | 2:22:16.37 | 14:14 | 54 | M | 10M | SPRINGFIELD | MO |
| 22 | 943 | SIMON | DARYL | 2:25:44.66 | 14:34 | 67 | M | 10M | ROGERSVILLE | MO |
| 23 | 905 | BIRD | ERIC | 2:25:59.11 | 14:36 | 28 | M | 10M | KANSAS CITY | MO |
| 24 | 904 | BIRD | WES | 2:26:00.78 | 14:36 | 25 | M | 10M | KANSAS CITY | MO |
| 25 | 917 | ERNSTING | CRAIG | 2:26:47.18 | 14:41 | 48 | M | 10M | BRANSON | MO |
| 26 | 935 | RAHMOELLER | CHARLES | 2:27:19.78 | 14:44 | 31 | M | 10M | MARSHFIELD | MO |
| 27 | 933 | PILGRIM | MARK | 2:27:30.72 | 14:45 | 38 | M | 10M | OZARK | MO |
| 28 | 950 | VAN | WINKLE MELITA | 2:29:06.03 | 14:55 | 54 | F | 10M | OZARK | MO |
| 29 | 955 | ZENDER | JIM | 2:30:36.36 | 15:04 | 61 | M | 10M | SPRINGFIELD | MO |
| 30 | 921 | HOUSEMAN | ADAM | 2:31:46.29 | 15:11 | 37 | M | 10M | RIDGEDALE | MO |
| 31 | 916 | EDWARDS | DANIEL | 2:33:38.77 | 15:22 | 37 | M | 10M | SPRINGFIELD | MO |
| 32 | 914 | DAVIS | MELANIE | 2:37:02.14 | 15:42 | 30 | F | 10M | SPRINGFIELD | MO |
| 33 | 903 | BAKER | RACHEL | 2:37:49.04 | 15:47 | 37 | F | 10M | SPRINGFIELD | MO |
| 34 | 902 | BAKER | GREG | 2:37:51.74 | 15:47 | 41 | M | 10M | SPRINGFIELD | MO |
| 35 | 920 | HOOVENS | CRISTAL | 2:38:35.14 | 15:51 | 41 | F | 10M | SPRINGFIELD | MO |
| 36 | 915 | DEATON | DAMON | 2:39:19.55 | 15:56 | 47 | M | 10M | SPRINGFIELD | MO |
| 37 | 942 | SHIPMAN | VALERIE | 2:39:22.42 | 15:56 | 54 | F | 10M | YELLVILLE | AR |
| 38 | 918 | FESLER | LAURA | 2:45:07.11 | 16:31 | 46 | F | 10M | REPUBLIC | MO |
| 39 | 927 | MRAD | DAVID | 2:45:08.57 | 16:31 | 46 | M | 10M | SPRINGFIELD | MO |
| 40 | 912 | CUTBIRTH | TONYA | 2:46:22.38 | 16:38 | 40 | F | 10M | AVA | MO |
| 41 | 952 | WELCH | LORNA | 2:46:56.03 | 16:42 | 45 | F | 10M | AVA | MO |
| 42 | 941 | SHELTON | RICHELLE | 2:46:56.73 | 16:42 | 45 | F | 10M | AVA | MO |
| 43 | 907 | CATT | RC | 2:51:05.47 | 17:07 | 64 | M | 10M | SPRINGFIELD | MO |
| 44 | 945 | SKINNER | MARCIA | 2:55:09.65 | 17:31 | 55 | F | 10M | CARTERVILLE | IL |
| 45 | 944 | SIMPSON | JEANNE | 2:58:26.48 | 17:51 | 50 | F | 10M | YELLVILLE | AR |
| 46 | 928 | NENTRUP | ELISE | 3:11:17.70 | 19:08 | 45 | F | 10M | LOCKWOOD | MO |
| 47 | 940 | RUDOLPHI | ELAINE | 3:14:56.62 | 19:30 | 45 | F | 10M | SPRINGFIELD | MO |
| 48 | 930 | PEDERSEN | ANGELA | 3:18:21.40 | 19:50 | 35 | F | 10M | MONETT | MO |
| 49 | 938 | RHYMER | JENNIFER | 3:18:24.60 | 19:50 | 37 | F | 10M | MONETT | MO |
| 50 | 911 | CUMLEY | BECKY | 3:25:36.63 | 20:34 | 49 | F | 10M | SPRINGFIELD | MO |
| 51 | 954 | WOHNOUTKA | KATHRYN | 3:46:27.66 | 22:39 | 49 | F | 10M | BOLIVAR | MO |
| 52 | 948 | TRAHAN | BIRDIE | 4:22:03.25 | 26:12 | 39 | F | 10M | SPRINGFIELD | MO |
| 53 | 925 | MCDERMITT | AMANDA | 4:22:03.68 | 26:12 | 33 | F | 10M | SPRINGFIELD | MO |
(Event 158,103)