Saturday, November 14, 2015 - Remember Our Heroes 5K benefiting the Missouri Veterans Home.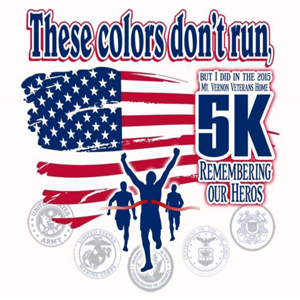 Event Start Time: 9AM
Pre-Registration: $20
Day of Race: $25
Race day Registration will be held from 8AM to 8:50AM
Packet Pick Up will be held Friday, November 13th, from 8AM to 4:30PM at the Veterans' Home or during race day registration.
Entry form MUST be received by October 30th to guarantee a shirt on the day of the race. All others can pick up a shirt at a later date.
Event Organizer(s):

Results
debug: CSV
| | | | | | | | |
| --- | --- | --- | --- | --- | --- | --- | --- |
| Position | Bib # | Name | | Finish | Pace | Gender | Division |
| | | | | | | | |
| 1 | 309 | KAGE | LENGER | 20:09.34 | 6:30 | M | 5K |
| 2 | 318 | CAYDEN | HEISNER | 20:19.12 | 6:33 | M | 5K |
| 3 | 785 | MARK | HARRIS | 23:11.38 | 7:29 | M | 5K |
| 4 | 715 | RANDY | GARRETT | 26:03.93 | 8:24 | M | 5K |
| 5 | 314 | RONALD | RAFFERTY | 26:55.52 | 8:41 | M | 5K |
| 6 | 315 | KIM | RAY | 28:23.37 | 9:09 | F | 5K |
| 7 | 320 | ELI | BOLIN | 30:46.14 | 9:55 | M | 5K |
| 8 | 319 | ARTHER | HENRY | 30:47.22 | 9:56 | M | 5K |
| 9 | 313 | BRADY | PIPPIN | 31:56.13 | 10:18 | M | 5K |
| 10 | 310 | AJ | MINARDI | 32:25.36 | 10:27 | M | 5K |
| 11 | 794 | LULU | HERMAN | 32:34.93 | 10:30 | F | 5K |
| 12 | 111 | SEAN | CREASEY | 33:13.08 | 10:43 | M | 5K |
| 13 | 724 | DAWNYA | GIBBS | 33:13.95 | 10:43 | F | 5K |
| 14 | 321 | CARI | PAYNTER | 34:02.91 | 10:59 | F | 5K |
| 15 | 112 | ELLIE | CREASEY | 34:05.69 | 10:59 | F | 5K |
| 16 | 312 | JAMIE | PIPPIN | 34:51.82 | 11:15 | F | 5K |
| 17 | 795 | CLEA | KLEEMAN | 40:32.24 | 13:05 | F | 5K |
| 18 | 705 | DEBRA | GARRETT | 50:19.35 | 16:14 | F | 5K |
| 19 | 128 | ALEX | GARRETT | 50:19.36 | 16:14 | F | 5K |
| 20 | 799 | LOUIS | KLEEMAN | 50:39.38 | 16:20 | M | 5K |
| 21 | 322 | DOUG | GARBEE | 51:11.97 | 16:31 | M | 5K |
(Event 174,119)