Join us for Run for the Pantry 5K & 1 Mile hosted by Ash Grove Lodge No. 100 A. F. & A. M.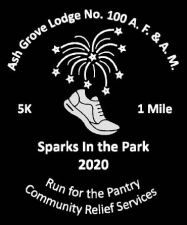 Sparks in the Park is an annual Patriotic Celebration sponsored by the Ash Grove Historic Town Center. The event is free to the public. Fireworks begin at sundown.
Event Organizer(s):


Register
To participate in this event please complete the required fields below. You can register more than one attendee/participants by clicking the "+Add another registrant" button. This information will be shared with the Event Director (Note: billing and payment information are not shared).
(Event 521,460)