Strafford, MO - Saturday, June 21, 2014, was the 2nd Annual Logan's 5K for SMA with a 1 Mile Walk, Run & Roll. Spinal Muscular Atrophy (SMA) is a genetic neuromuscular disease characterized by muscle atrophy and weakness. The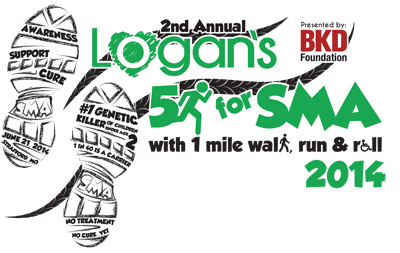 disease generally manifests early in life and is the leading genetic cause of death in infants and toddlers. SMA has generally been believed to affect as many as 10,000 to 25,000 children and adults in the United States, and therefore it is one of the most common rare diseases. SMA is the number one generic killer of infants & Toddlers. 1 in 50 people are carriers of the disease.
Treatment is near. Clincial trails are underway!! Thank you to all of our sponsors, volunteers and participants for helping to support such a great cause.
Logans 5K for SMA Overall Results
Logans 5K for SMA Age Group Results