Springfield, MO - Saturday, June 14, 2014 was the Play Like Paul 5K at Glendale High School. The event raised money for local athletic scholarships in honor of Paul G. Nahon III, the Glendale High School graduate and tennis star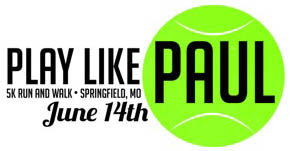 who died while hiking in Colorado last summer.
Nahon died August 15, 2013 while hiking the trails of the Rocky Mountain National Park, pursuing his goal to climb all 14 thousand-foot peaks (14'ers) in Colorado. The 2011 Glendale graduate won the Missouri State Tennis Championship in 2010 and 2011 and holds the record for the most tennis wins in Missouri history.
Thank you to all the volunteers, sponsors and participants for helping to support such a great cause.
Play Like Paul Age Group Results
Play Like Paul Overall Results