Mt. Vernon, MO - Mt. Vernon Veterans Home hosted the Remembering Our Heroes 5K on Saturday, November 14, 2015. Proceeds from this event benefit the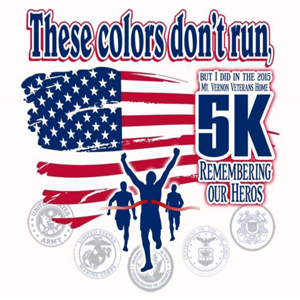 Missouri Veterans Homes. The Missouri Veterans Homes manage a total of 1350 beds that provide long term skilled nursing care in compliance with 157 Federal Department of Veterans Affairs regulations. The Homes are located in Cameron, Cape Girardeau, Mexico, Mount Vernon, St. James, St. Louis, and Warrensburg.
Thank you to all our sponsors, volunteers and participants for helping to support such a great cause. Most importantly, THANK YOU to all of our veterans for what you've done to protect our country.