Join us at the 5th Annual Cabin Fever Reliever 5K, 10K & 20K. The 20K opens up the field to make and break state records in Missouri. The course is USTAF Certified in Rogersville, MO and includes great scenery and a couple of rolling hills. This is a perfect chance to test your endurance and compete for a state record and automatic PR for any first-time 20K-ers.
Event Organizer(s):


Event Details
ALL EVENTS START AT 9:00 AM
PACKET PICKUP - Fleet Feet Sports, 1254 E. Republic Rd. in Springfield from 3P - 7P on Febuary 28th or Rogersville High School 7:30A Race Day
ENTRY FEE:
20K: $60; OMRR Member $35; Race Day Registration $65
10K: $30; Race Day Registration $35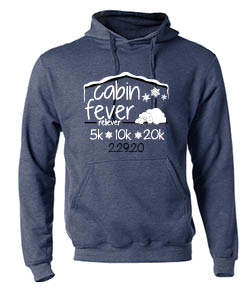 5K: $30; Race Day Registration $35
Water/Aid Stations on course - Overall/Age Awards - Finish Line Food
Proceeds from this event benefit the Logan-Rogersville Cross Country Team & the Gathering Friends for the Homeless.
(Event 490,429)