ActNow Promotions can provide complete race production for your organization. We will provide everything necessary to make your event a success. Completely producing your race... we will provide timing of your event; manage pre-race, day of, and post race activities; selection and design of the course; advertisement of your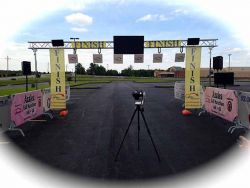 event; provide t-shirts, medals, trophies, etc, that your organization would like to give away. ActNow Promotions will handle obtaining all needed permits, insurance, and course approvals. We will design and mark your course.
Proper amounts of aid stations will be organized, supplied, and managed for your run.
After a budget is agreed upon between ActNow Promotions and your Organization. ActNow Promotions will start with a complete marketing campaign and organization of the event. The benefiting organization will be responsible for advertising the event through their channels of communication with the marketing material provided by ActNow Promotions.
We will design race logo's, posters, registration forms, t-shirts, awards, etc. After approval from the organization, we will take care of the responsibility of production of all marketing material and products necessary for the race.