Packet pick up will be held Thursday, September 8th from 4pm to 7pm at Parlor 88 Lounge & Eatery, 1111 E Republic Rd #180, Springfield, MO & Friday, September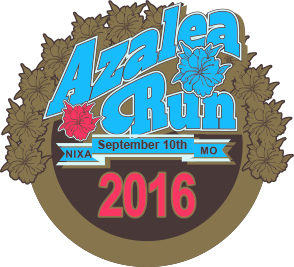 9th from 4pm to 7pm at the Gardens at Woodfield, 441 S. Truman Blvd, Nixa, MO (race start/finish line).
Race day registration and packet pick up is from 6:30am to 7:45am at the Registration Tent (big tent) at the Gardens at Woodfield.
Parking will be available in the field next to the Gardens.
When you pick up your bag it will include your shirt & race bib. Please wear the bib on the front of your chest so we can see your number as you cross through the finish line. If you're unable to make it on race day and you'd like to transfer your bib to a friend/family member, please let us know asap (before the race PLEASE)! If you fail to notify us, this could drastically affect the results. We do not charge additional for transfer and we're more than happy to take care of it for you.
If you'd like to change the event that you registered for (ex: you registered for the half marathon and would like to drop down to the 10K) please let us know asap (before the start of the race..if possible). If you decide during the race that you need to run a shorter distance, please let us know immediately after you cross the finish line.
RACE DAY:
There are 5 aid stations along the course (about 2 -2.25 miles apart). All events are an out and back, so you'll hit the aid stations twice. Every aid station will have water and sports drink, plus snacks (pretzels, tootsie rolls, gummy bears, clif bars, and oranges). The aid stations are being manned by the Nixa High School Cross Country Team.
The course is open to traffic so please be aware at all times of your surroundings. Police officers will be positioned around all the intersections blocking traffic. The course is marked with orange arrows on the ground and there will be green signs at every turn. The half marathon will have a lead vehicle and there will also be a followup on the course.
POST RACE/FAMILY/SPECTATORS
Post race will include a community pancake breakfast. Please let your family/friends (non registrants) know that they are more than welcome to have pancakes!