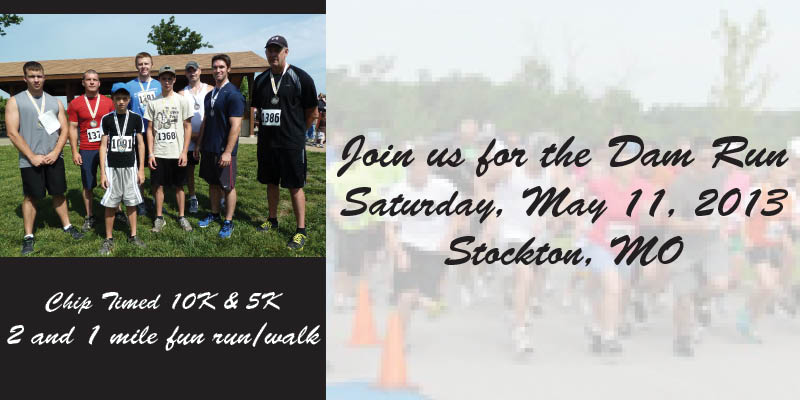 This unique course takes participants across the top of the Stockton Lake Dam. Whether you're running/walking you have breath taking views of Stockton Lake and the Sac River below the dam. The course then winds through trees on a packed aggregate surface.
By participating in this event, you will be helping to maintain and build new trails around Stockton Lake for all people to enjoy at no cost. Trails are multi use and range from 0.5 miles to 17 miles. Numerous plans are in the works for more trails, on land and water. 2013 marks the second year for this scenic and important run. We provide an opportunity for anyone who wants to participant: walk, fun run, 5K and 10K timed events for all ages and skill levels. After the race hang around the Lake overlook pavilion for awards and pictures!
In 2012 we had 90 plus participants that ranged in age from 9 to 72 years old. Of course, all registered participants receive a great The Dam Run T-shirt and trophies and awards are given for Male and Female overall winners, youngest and oldest. and the top three in the seven age categories!! We realize there are lots of runs and causes to chose from. We hope you choose to join The Dam Run!! REGISTER NOW!