Branson, MO - Saturday, September 6, 2014, the Ultimate Gymnastics Booster Club hosted the Ultimate Groovy 5K & 1 Mile Fun Run at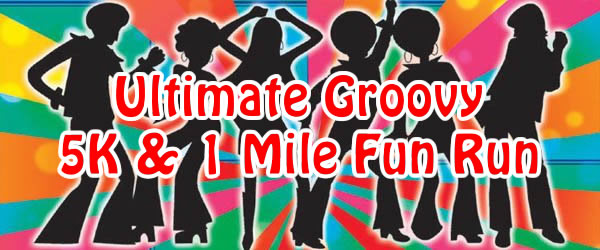 Dewey Short. This was a 70s themed run featuring a disco ball finish and tie-­dyed shirts. The run was along the beautiful shores of Table Rock Lake at Dewey Short.
All proceeds benefit the Ultimate Gymnastics of Branson Booster Club, a non­profit group that supports the competitive gymnastics team from the Hollister YMCA.
Gymnastics is a very expensive sport. The Booster Club fundraises to make gymnastics available to girls in the community regardless of their financial status. Competitive sports have an impact that lasts a lifetime. Our girls gain self esteem, self confidence, a sense of team work, a competitive spirit and positive body image.
Ultimate Groovy 5K Age Group Results