Details

Written by:

Amanda Jerman
Houston, MO - Saturday, July 19, 2014, was the Christams in July 5K at Emmett Kelly Park. Proceeds from this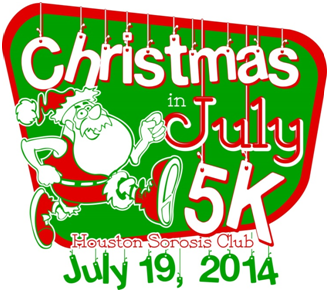 event benefit the Houston Sorosis Club Scholarship Fund for local high school girls.
Details

Written by:

Amanda Jerman
Joplin, MO - Saturday, July 12, 2014 Starlit Running Company hosted the MidSummer Night 5K, 10K & 1 Mile Fun Run. This was the second event in the Summer Night Time Race Series. Runners who participate in all three events will receive a custom finisher's medal upon completion of the last race, Blue Moon 5K, 10K & 1 Mile Fun Run.

Details

Written by:

Amanda Jerman
Ozark, MO - Saturday, June 28, 2014 was the Duck Waddle 5K benefiting Care to Learn. Care to Learn has touched the lives of over 11,000 children. In the Ozarks, 47% of students qualify for reduced price lunch and 27.3% of

children are below the poverty level. Lack of proper hygiene is the number one reason for absences from school.
For thousands of Ozark and Nixa kids, education is an afterthought to survival. When basic needs go unmet, kids struggle to focus on studies. Worn out, poorly fitting clothes affect a kid's sense of belonging. Being made fun of leads to absenteeism and drop out. Poverty can alienate kids, making school a scary and lonely place.
These kids want to be accepted. Care to Learn's funds help schools meet the immediate needs of kids. We have the ability to do something about it.
Details

Written by:

Amanda Jerman
Strafford, MO - Saturday, June 21, 2014, was the 2nd Annual Logan's 5K for SMA with a 1 Mile Walk, Run & Roll. Spinal Muscular Atrophy (SMA) is a genetic neuromuscular disease characterized by muscle atrophy and weakness. The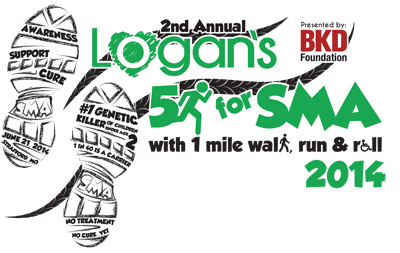 disease generally manifests early in life and is the leading genetic cause of death in infants and toddlers. SMA has generally been believed to affect as many as 10,000 to 25,000 children and adults in the United States, and therefore it is one of the most common rare diseases. SMA is the number one generic killer of infants & Toddlers. 1 in 50 people are carriers of the disease.